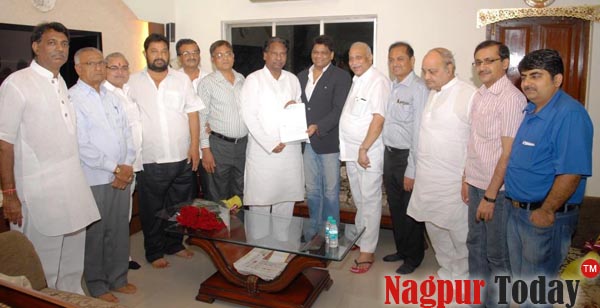 Nagpur News: A delegation of Nag Vidarbha Chamber of Commerce lead by  Dipen Agrawal, President of the Chamber met in presence of  Vilasrao Muttemwar, M.P. Dr. Kavuru Sambasiva Rao, Union Hon'ble Minister of Textiles during in visit to Nagpur.
Dipen Agrawal, President felicitated the Hon'ble Minister and  appraised him about vast potential of Textile Industry in Vidarbha.
On the occasion a memorandum enumerating the following points was handed over to him
TEXTILE INDUSTRY MAY WEAVE IN VIDARBHA ECONOMY
A rich farm economy half a century ago, Vidarbha has fallen on bad days. Now, it is waiting for revival. A possibility was seen when the Mihan project was conceived. But the Mihan dream has soured. Despite creation of world class infrastructure it failed to attract the expected investment. The new idea firing imagination now is textile processing industry. The State ushered in a new textile policy almost a year ago. Its impact is yet to be seen. It is expected to create the necessary impetus for investors in Textile sector. The Chamber is very much hopeful in the new textile policy.
The State produces around 90 lakh bales of cotton every year mainly in Vidarbha-Marathwada-Khandesh belt. But hardly 20 lakh bales are consumed by industry within the State. The rest is lapped up by units outside the State or is exported. In the 70s, the State Government brought in the monopoly cotton scheme where cotton was procured by State-run agency to protect farmers' interests. But it could not complete the chain up to textile processing units mainly in the backward region of Vidarbha.
The reasons to failure are envisaged are mere availability of raw material is not enough. Entrepreneurial skills also count. While the cooperative and even private sector could not make its mark in this region, textile processing boomed in far off Ichalkaranji where no cotton is grown." However, the new textile policy with its own sops and the new industrial policy that provides attractive incentives for medium and small as well as mega units should now bring growth in Vidarbha.
The idea is to scale up consumption to at least up to 50 lakh bales in the state. Chamber is confident that the textile boom will put an end to farmers' suicide crisis in the region. The Chamber should offer sops to attract investments in spinning mills as new material is available in this part of abundantly. Besides Yavatmal, prospective units are showing huge interest in Amravati followed by industrial estate at Butibori.
EXPERTS ANALYSES POTENTIAL OF VIDARBHA COTTON INDUSTRY
Several stalwarts from the Indian textile and apparel industry discussed the prospects and potential of cotton industry in Vidarbha – the east region of Maharashtra. Around 70 percent of Vidarbha annual cotton output of 6.2 million tons is either shipped out to other states, as the region lacks adequate number of processing units capacitated to process this cotton, which is taking a toll on the region's cotton economy, according to speakers.
Post-harvesting, cotton needs to pass through various stages like ginning, weaving, spinning and dyeing before its actual transformation into fabric.
Vidarbha region contributes around one-fourth of India's total cotton output worth around Rs. 13 billion. This raw produce is then sent to different parts of the country for processing it into fabric.
Once transformed into fabric its value increases to Rs. 1300 billion, which is a big leap in the value chain.
Power charges comprise around 10-20 percent of the total costs, while the units in the state continue to face problems in securing power supply from open access energy market.
Cotton produced in Vidarbha first reaches Gujarat where based on grading it is branded as 'Shankar' variety, which has high sale value and higher acceptance in domestic as well as international market than other brands.
Gujarat has high-level processing facilities that increase the value of cotton, which is presently not possible in Vidarbha.
There is a need to create a weavers processing zone where in pre & post weaving facility with common facility center should be created.
His kind intervention & consideration shall go in a long way for development of weavers of the region.
Garmenting business has immense scope and encouraging steps should be taken for its promotion it shall help tailoring work and generate immense jobs in the region.