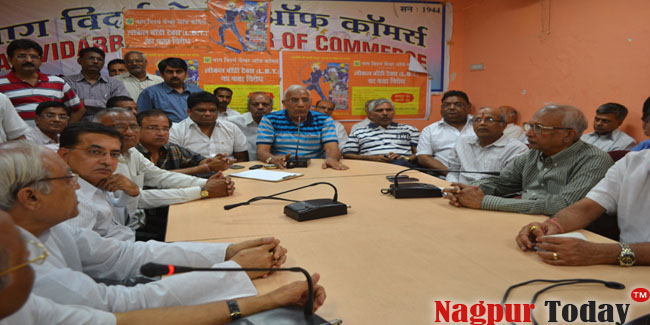 Nagpur News: While welcoming the postponement of LBT for Mumbai  Dipen Agrawal, President NVCC  denounced the Government's move to divide the trading community by separating Mumbai from rest of Maharashtra. He reiterated NVCC demand to abolish LBT from the entire state, which otherwise will drive away the Trade and Industry from Maharashtra.
He further added that traders are ready to pay the Tax but LBT is regressive in nature and will lead to decline in over all trade of Maharashtra resulting in revenue loss to state and usher in a era of harassment and corruption.
He informed that a  high powered delegation of Federation of Associations of Maharashtra (FAM) will meet Sonia Gandhi, Congress Party President and  Rahul Gandhi, Congress Party Vice President at 10, Janpath Marg, Delhi at 10. 30 AM on Friday.
The FAM delegation shall be led by  Agrawal  consist of  Arun Doshi, Sr. Vice President -FAM, Muhammadali Patel, General Secretary -FAM, Milapchand Kanugo, President -MASMA.
The delegation will discuss & appraise  Sonia Gandhi and Rahul Gandhi on LBT (Local Body Tax) problem faced by the Trading Community & common people all over Maharashtra.
Simultaneously, another trade delegation of various trade associations of Maharashtra led by Mohan Gurnani, President -FAM, will be meeting Prithviraj Chavan, Chief Minister of Maharashtra along with Sharad Pawar, Chief of NCP  in Mumbai on Friday. Shreegopal Soni past president NVCC shall be part of the delegation. The Trade Delegation will discuss various issues related to LBT in Maharashtra. The delegation shall insist on the CM to withdraw LBT from the state & the revenue for corporations may be collected through existing tax structure by imposing surcharge or by increase in rates.