Nagpur's 3-year old Naiteek, 6-year old Neev display supremacy in roller-skating tourney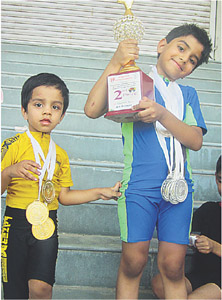 Nagpur News: Displaying their supremacy, the Orange City's Neev and Naiteek Rathi won a total of 10 medals in the 10th All India Roller-Skating Tournament held at Aurangabad's Divisional Sports Complex. The 6-year old Neev and the 3-year old Naiteek are real brothers and belong to Nagpur city.
Neev won 5 Silver and 2 Bronze Medals in the tournament maintain his excellence in roller-skating. On the other hand, the 3-year old Naiteek, to the surprise of all, won 3 Silver Medals by showing his brilliant skills. Looking to his age, Naiteek left all the spectators and, his parents, too, dumbfounded. If Naiteek could achieve such a glory in so young age then a bright future stares his face in the roller-skating world.