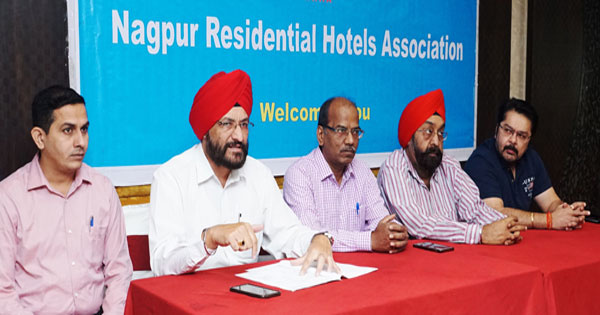 In last few years Hotels nationwide started to receive few bookings through Online Travel Agencies (OTAs) and thereby these OTAs from time to time went into contractual contract with Hotels and were carrying business; however few hotels experiencing discomfort with the format of bookings & constant variations in financial dealings including commission rates and likewise.
Taking this issue into consideration Nagpur Residential Hotels Association (NRHA) held a general body meeting at Hotel Majestic Manor, which was presided by Tejinder Singh Renu – President NRHA. Also present on dais were Prakash Trivedi – Immediate Past President, Inderjeet Singh Baweja – Vice President, Deepak Khurana – Secretary and Vinod Joshi – Treasurer
In this meeting few NRHA members shared their experiences with OTAs and few also informed that they are in disputes in related to nonpayment of dues by such OTAs.
Thereafter Tejinder Singh Renu had conversation with Gurbaxish Singh Kohli – Vice President of The Federation of Hotels and Restaurant Association of India, New Delhi (FHRAI) and President of Hotel and Restaurant Association – Western India, Mumbai (HRAWI) who informed that FHRAI had recently written to few OTAs after receiving similar complaints from other nationwide hotels
Gurbaxish Singh Kohli informed that it is a matter of fact that OTAs secure competitive/discounted rates from Hotels in order to sell the same on their platform. However, it is also well known that the OTAs are further discounting over and above the listed prices offered by the Hotels without their consent, thereby, causing loss of image to the individual Hotels. Moreover around 40% of the room inventory available on OTA platforms is illegally operated without valid licenses from local/state authorities. Such indiscriminate hosting encourages illegal activities, non-compliance of statutory rules and regulations and compromises guest safety, including huge loss to the exchequer.
FHRAI warned such OTAs to explore possibilities of amicably resolving the issues mentioned herein before calling for a nationwide protest against such OTA Organizations and NRHA assured HRAWI to support protest as & when it's called by FHRAI.
Prominently present in the meeting were Joint Secretary Nitin Trivedi, NRHA members Shivam Gupta, Rajan Mulani, Ajay Jaiswal, Punit Dargan, Sudhir Jaiswal, Gurbachan Singh Kanwal, Mohan Trivedi, Rajesh Dharmik, Vijay Sawarkar, Sharad Parashar, Vasudeo Trivedi, Mahesh Trivedi, Vishal Jaiswal, Vinod Chaurasiya, Suddu Vaidya, Manoj Shukla and Amit Raghatate.