Now suspicion raised over Wasankar's PhD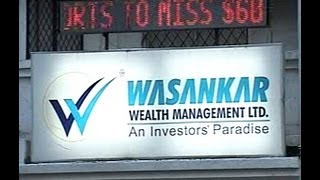 Nagpur News.
Dr Prashant Wasankar, proprietor of Wasankar Wealth Management is gaining notoriety with every passing day. This time suspicion is being raised over his doctorate degree. Insiders revealed that investors who are wary of their funds parked into the ponzi schemes of Wasankar, even suspect the veracity of his degree which enables him to prefix "Dr" before his name.
Panic over the security of their funds, a section of investors has even questioned the authenticity of Wasankar's doctorate degree. One of the investors who approached Nagpur Today demanded that it's high time Wasankar should come forward and clear the air over his dubious schemes and also the fact that from where and when he got his doctorate degree. "He should also reveal under whose guidance Wasankar has completed his thesis required for doctorate," quipped the investor.
Now that the investors are queuing up at Wasankar's office, the company has adopted the trick to calm down small investors while blatantly missing out on due dates of payment for big investors.
It may be mentioned that Nagpur Today had earlier posted the news in this regard in which it was informed how Wasankar has been appeasing small investors while keeping the investors who parked huge amount at bay. Now the reports stand true as a national daily quoted one of the investors, an MSEB employee, as saying that Wasankar has been paying up interest of 2% per month on their investments. However, this fact finds contradiction in the deposit returns set by Reserve Bank of India and Security and Exchange Board of India (SEBI). The RBI guidelines specifically bars investment with the promise of such high returns. However this does not hold much water for Wasankar which is not even registered with RBI as Non-Banking Financial Companies (NBFCs). The fact came to light when Sandeep Agrawal of People Against Corruption sought reply from RBI in an RTI query filed by him.
Meanwhile, it is learnt that Wasankar got one of the leading media house involved into his plan to seek some positive publicity. It was also known that some renowned faces from media are all out to protect Wasankar who is using his contact to suppress negative news against him and to bring out some much needed favorable news from the media.
On Wednesday, another big investor approached Nagpur Today. This investor has Rs 1.9 crore stuck into Wasankar's scheme. The maturity of payment is due now but the investor is worried he may not get his amount back. Wasankar had earlier promised to him that he would pay 25% amount only and rest in 6 EMI. Now Wasankar is not even willing to meet him, informed the investor.
On Tuesday morning, investors gathered at the firm's office in small groups. Even as Wasankar attended some of them and a few of them got a part of their amount due, others had to keep waiting.
When did PC happen?
A national daily reported that a press conference was arranged on Tuesday evening by the group which supported Wasankar, but it was later cancelled. When Nagpur Today dug deeper it came out that neither the patrakar bhawan was booked for the press conference nor the information was sent to other media houses regarding this press conference. This indicates something fishy that points to such orchestrated arrangement to come clean.