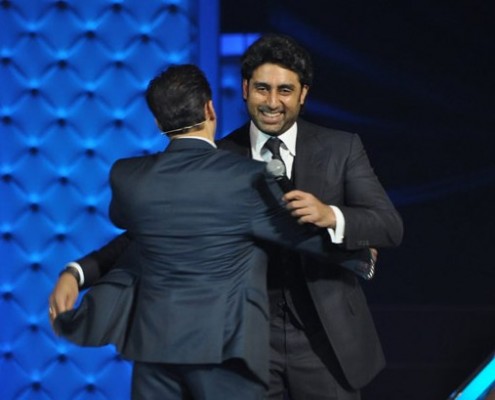 It's patch up time for our Bollywood super star Salman Khan, especially when he is awaiting his big release Jai Ho this Friday. His humble gesture is seen across various TV channels where he has been appearing to promote his movie. Moreover, the actor has even cropped up from the closet to mark an end to the differences with many of his fellow film actors. The one recently displayed was his catching up with Shahrukh Khan with whom he reportedly had long going differences. After the recent hugging session at Iftar party in Mumbai, Salman and Shahrukh again hugged each other at an award function.
As if it was not enough, Salman made it a point to make another remarkable gesture and went up to hug Abhishek Bachchan, the husband of his yesteryears girlfriend Aishwarya Rai with whom his relationship ended on a serious note. But this time Sallu has stepped up to forget the past and move ahead. He decided to let go of his foes, forgive, forget and hug them. Salman Khan who was the host for the night called upon Abhishek Bachchan on the stage to recieve the Hall of Fame Award on behalf of the Dhoom 3 team.
While Abhishek Bachchan shared the stage, Salman decided to go a step ahead and hugged him.