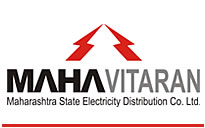 Nagpur News : In an attempt to save environment and promote the agenda of 'Go Green', Maharashtra State Electricity Distribution Co. Ltd (MSEDCL) gave green signal to the decision facilitating consumer by sending electricity bills through sms. MSEDCL, in a view to use Information Technology to save cutting of trees for papers, will now send the bills on mobile phones of consumers through sms.
Sources said that MSEDCL have more than 2 crore consumers across the State. Number of paper bills are made to be send to the consumers. With increasing number of consumers, number of trees cutting for the same has increased drastically in last few years. MSEDCL has already inctroduced a policy to pay bills online or through mobile phone. Now, it has taken another step and have introduced this new policy to send bills through sms.
To get the bills through sms, consumers will have to register their names on the website www.mahadiscom.in. Click on 'Bill by SMS' and fill consumer number and mobile phone number. After the mobile phone number is registered, consumers will start getting their bills through sms.
This new policy will also decrease in the number of complaints regarding not getting bills on time to a great extent. Consumer will get bills on time and they can get the bills on time, thus, they can take advantage of the facility 'Prompt Payment discount'. MSEDCL officials have appealed the public to take advantage of this opportunity and also help to save environment.