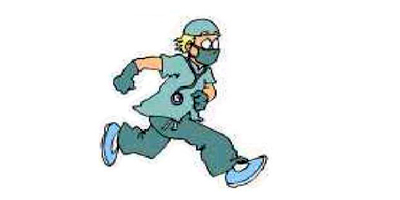 Nagpur News: Hundreds of criminals. Hundreds of tricks. Hundreds of victims. Now, after robbing and looting by "bogus policemen", "fake postmen" it is time for "fake doctors" all fake personalities in the form of real criminals.
According to police, a hard-core criminal entered a house of an aged woman Kamalabai Laxman Khobragade (82), a resident of Itwari, by introducimg himself as a "Doctor." The goon told Kamalabai that he is son of Dr. Shivhare. He is also a "Doctor." He knows her very well and has come for her check up.
During "check up" the criminal told Kamalabai that her hands and legs have become very weak and asked her remove gold bangles, bracelet in order to "check up" thoroughly. The unwary Kamalabai did the same and put the ornaments in a tiffin box. The "Doctor" immediately finished "checking" of Kamalabai and diverted her attention towards other direction. Then the "Doctor" in a swift operation grabbed the ornaments and escaped from the spot as fast as he could. The ornaments were worth Rs 1,20,000.
However, the old woman received a shock from the "Doctor" as after some time when Kamalabai opened the box for doning the gold bangles again, the booty was vanished by the trick of the "Doctor." Kamalabai approached Lakadganj Police Station and narrated the entire episode to police. Police have booked the "Doctor" under Sections 419, 420 of IPC and are in search of the goon.