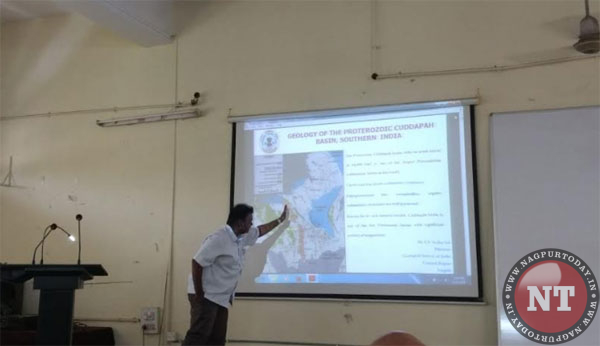 Nagpur: The PG department of Geology of RTMNU organized a lecture on Geology of the Proterozoic Cuddapah Basin of South India in the Assembly hall,PG deparnment in the University on Friday. The speaker Dr V. Sesha Sai lured the information to the students by his presentation of the research done in the Cuddapah Basin. He gave a brief information about the Basin which has been formed over thousand of years time.
In his lecture he informed that the Proterozoic Cuddapah Basin of South India hosts mainly sedimentary rocks and igneous rocks too. It hosts a number of unconformity-bound sequences deposited over continental crust.
Widely known for mineral wealth the Cuddapah basin hosts 74 million tonnes of barite in Mangampetta that is being mined which is generating about 1200 crores of revenue per annum (barite is essentially barium sulphate used in X-Rays, glossy paper, drilling mud etc) , base metal (copper, lead and zinc mined in Agnigundala mines, Guntur dist by Hindustan Zinc Ltd).
The Geological Survey of India (GSI) has also identified uranium deposits further studied by the Atomic Minerals Directorate and now being mined by the Uranium Corporation of India. He further informed that the Cuddapah basin, endowed with rich mineral wealth, is one of the important and fairly well studied geological units in Peninsular India.
Cuddapah basin has been well known for a variety of mineral resources, such as barites, asbestos, copper, iron, fullerene, lead, diamonds, uranium, gold, silver and many other minerals.
During his lecture he instead that students must be brought to field where they can look at the sites which will be helpful in their academics.