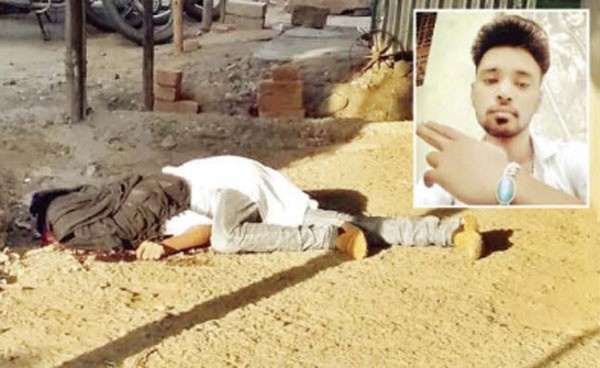 Nagpur: A notorious criminal was murdered in alleged gangwar that erupted in MIDC area on Thursday night.
The deceased, Shrikant Guhe, who was in jail for murdering another hardcore goon Amit Ambade in Ajni area in October 2016, had come out of prison 15 days ago. On Thursday night, unidentified persons attacked Shrikant Guhe with sharp-edged weapons and eliminated him brutally.
According to sources, the deceased Shrikant Guhe, resident of Rajgruhanagar, Hingna Road, MIDC, was allegedly involved in narcotics dealings. On Thursday night, unidentified persons accosted Shrikant in front of Punjab National Bank, near IC Square, and attacked him with lethal weapons killing him on the spot. The number of assailants could be more than three. Shrikant's head was smashed by the assailants who initially talked with him over some issue. The murder has been attributed to gangwar.
Body of Shrikant was spotted by a passerby on Friday morning lying in poll of blood. MIDC police were informed immediately upon which a team of cops reached the spot. After conducting 'panchnama,' the body was sent to Government Medical College and Hospital for post-mortem. Police started investigations and talked to nearby residents for a clue. The identity of the killers has not been ascertained so far. Senior police officials and a team of Crime Branch also reached the spot and joined the investigations.
Notably, Shrikant Guhe along with his three accomplices Nilesh Mandaskar, Vicky Saneshwar and Azhar Habib Sheikh alias Ajju had murdered another goon Amit Ambade in Shrinagar area of Ajni on October 23, 2016. The murder was captured in nearby CCTV cameras. On the basis of CCTV footage, cops had arrested the four accused. Amit Ambade was allegedly demanding 'haptha' from Shrikant Guhe over narcotics dealings. For this reason, Shrikant and his three accomplices had eliminated Amit. Moreover, it is learnt, Shrikant used to provide secret information about other narcotics dealers to Crime Branch.
The murder of Shrikant Guhe could be the fallout of gangwar. It is suspected that a relative and accomplice of Amit Ambade may have settled the score in a revenge act.
MIDC police are probing the murder from all angles.