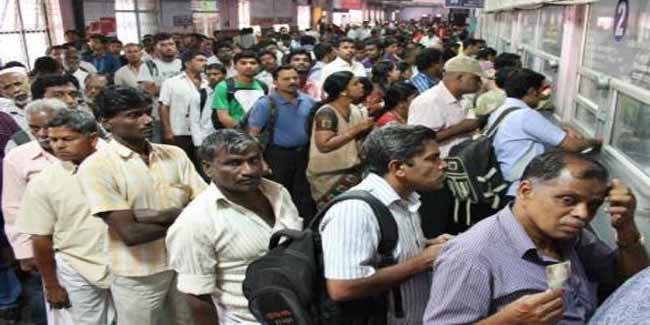 Nagpur News: With the ongoing summer vacations and rising mercury in city, citizens are opting for vacations in some pleasant and much cooler parts of the city. Due to this, the rush of passengers has increased in Nagpur Railway Station. On one hand, people are troubled due to non-functioning of few ticket counters whereas on the other hand newly opened ticket counters are waiting for the passenger to avail the facility of these counters.
The passengers are facing tremendous inconvenience due to non-functioning of four out of eight ticket counters in the East entry gate of Nagpur Railway station whereas Railway officials are seen eagerly waiting for passengers at the four ticket counters opened near GRPF at the West entry gate recently for the convenience of people.
It is to be noted that there are eight ticket counters at the East entry gate and eight general ticket booking counters along with four newly opened counters near GRPF at the West entry gate. However, due to lack of guidance by the railway officials and minimal information about the counters have left the passengers running hassle-bustle at the Railway Station for reservation purpose. Due to poor response to these counters, two counters have already been shut by the railway authorities.
With the beautification of eastern entrance of Railway station, the crowd of passengers is seen much on that part of the station. And thus, the number of theft cases has also increased. Earlier, the ticket counters were in open while now the counters have been shifted inside. Due to counter in the open premises, there was a check on thefts but with the counters moving in the inside, number of thefts has also increased. To add to the misery of people, the number of police staff deployed at the station is also less which gives a chance to pick-pocketers and thieves to plan out the thefts. Taking cognizance of the increasing crowd on the eastern entrance, police proposed to construct a police station which was could never shape up due to non-availability of land. But, now the railway authority has sanctioned a land for construction of police chowky in the premises and soon the construction work will be completed, the officials said.
The four counters near GRPF were dedicated to public in a grand manner by the Railway authorities but due to lack of interest and lenient approach of railway officials in informing the people about the same, these counters are still waiting for the arrival of passengers.