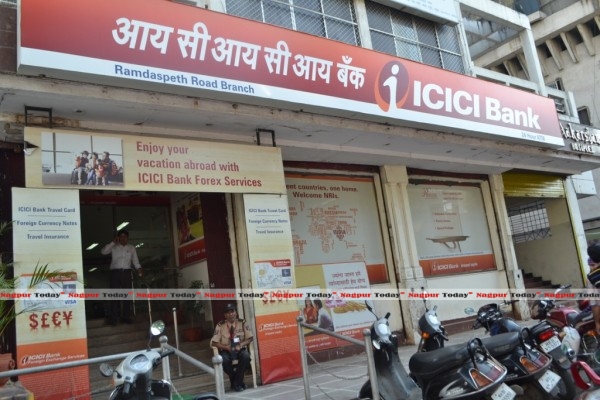 Nagpur News.
The customers dropping in at ICICI bank's Ramdaspeth branch have been facing great deal of inconvenience in getting their transactions through as the server enabling the facility abruptly crashed for locking of the service line. The situation has gone from bad to worse as the server remained defunct for the past two days and no withdrawals took place during this period. However bank authorities assured on Tuesday that they would rectify the problem in couple of hours.
Rishikesh Sakalkale, Deputy Manager at ICICI's Ramdaspeth branch informed that the issue cropped up from the side of service provider TATA whose service line has been locked by Nagpur Municipal Corporation for some unknown reasons. "We have started the work on two terminals with support from back up capacity which is otherwise too low to handle the huge rush of customers. For now, this is only catering to the customers requiring cash in emergency," Sakalkale told Nagpur Today.
Meanwhile, the customers lined up at the branch have been seen facing great deal of inconvenience as they were told that the work will retain normalcy only by tomorrow. However Sakalkale denied this claiming that they were intimated from the service providers that the server would be put back on track by this evening.
A person who was sent with the cheque was denied payment owing to the server failure and there were many like him. The customers were being told to move to other nearest ICICI branch, however, in that case the person would require authorization letter of the customer. This has only added to their inconvenience.
Many important transactions with this branch were badly hampered and the bank officials had to face the wrath of angry customers.
Coming clear on this, Sakalkale told Nagpur Today, "We have already intimated other branches that no cheques should be denied payment for any reasons. If anybody has any emergency they can come to us."
When asked about the inconvenience being caused to the customers he admitted the fault and said it was not a good thing for the health of the bank but specified that there were some scenarios when things got out of control. "We are trying to enhance the backup capacity in order to handle such a situation in future. Currently we have only 64 kbps of back up capacity which is quite insufficient to meet the crisis," he informed.
Meanwhile, Nagpur Today spoke to a few customers who had to face great deal of inconvenience because of the defunct server.
Amol Khartad who had come to deposit bulk cash complained that the ICICI Bank authorities coldly said that the server is down. When he asked when would it be functional, they said that they don't know when and how long it will take to get through. He said that they have to go all the way to Civil Lines.
Umesh Jadhav of UCN Cable Network Pvt Ltd said that such an unprofessional behaviour from a private bank is totally unexpected. He was told that the server is down in the morning when he came to the bank to deposit the cash. However, he had to go all the way to civil lines where he had to again stand in queue and deposit the cash.
Umesh Kamble who also had come to deposit the cash into his friend's (who is out of station and needs cash urgently) account said that now he has to go to some other branch to deposit the money. He said that his friend will have to face more problems since this operation of searching for another branch and depositing the money is going to take time.
Rajendra Wankhede another customer said that he too wanted to withdraw some cash and deposit the cah into some other account was told that the server is down and that he has to go to some other branch to do the transaction. He said that the behavior of the staff of ICICI Civil Lines branch is very rude and that he is often made to go to one or the other counter because the counter personnel just walks off without saying anything to the waiting customers. He said that the Private bank of a great repute should get such kind of technical problems repaired soon or should have made alternate arrangements or back-up for such kind of emergencies.