No parting threat from Shiv Sena, Govt will complete 5-year term, asserts Fadnavis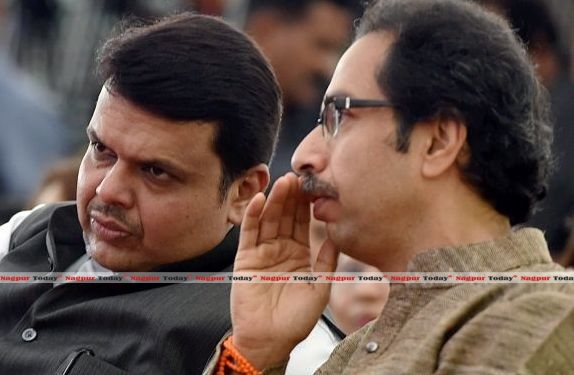 Nagpur: In a statement that would bring cheers to faces of BJP cadre, Maharashtra Chief Minister Devendra Fadnavis on Saturday ruled out any threat to his Government, asserting that Shiv Sena will not walk out and his dispensation will complete full five years term. Fadnavis said there is no situation where Uddhav Thackeray-led Shiv Sena and BJP have to part ways.
"I am 100% sure. I don't think Shiv Sena will walk out. Our Government will run for five years," Fadnavis told Rajat Sharma in 'Aap Ki Adalat'.
The Chief Minister's air clearing words come in wake of the rising tensions between the two allies with Shiv Sena forcing the cancellation of Pakistani Ghazal maestro Ghulam Ali's concert in Mumbai. The ink-attack by Shiv Sainiks on ORF's Sudheendra Kulkarni for hosting a book-launch event of former Pakistan Foreign Minister Khurshid Mahmud Kasuri added fuel to the bitterness between the two allies as Fadnavis slammed the alliance partner for the act and provided security to ensure that event goes well, a move that irked the Sena.
"I don't think we have reached any serious point where we will part ways. There is no such situation at all. We had a Cabinet meeting this week attended by the Shiv Sena Ministers.
"We also had informal meetings after that. So, please remove the notion from your mind that Uddhavji is going to announce withdrawal of support on October 22. The Government is not going to fall and complete full five years term," Fadnavis said.
The Shiv Sena will hold annual Dussehra rally in Mumbai on October 22 in which Uddhav Thackeray is expected to declare party's future course of action.
The Sena has been upset with the BJP ever since the break-up of its 25-year-old alliance before the State Assembly polls in October last year, following which both the parties contested individually. Although the Sena joined the government later, it has been complaining that the BJP does not give its "due-respect".