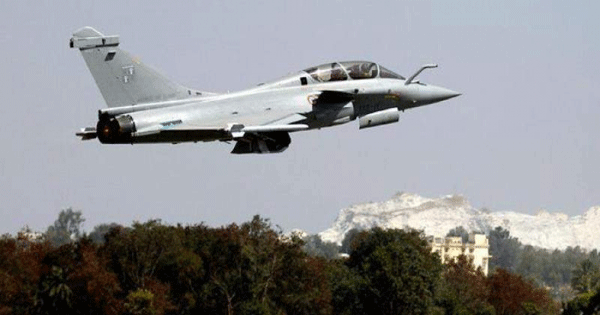 New Delhi: The Indian Air Force (IAF) on Wednesday told the Supreme Court that there has been no new induction of the fighters since the year 1985 and the ones it has are of three-and-a-half or fourth generation. The IAF officers' response came during the hearing on a batch of petitions on the French Rafale fighter deal after the apex court bench said that it didn't want to hear the government on certain aspects relating to the fighter jets.
"We are dealing with the requirements of the Air Force and would like to ask an Air Force officer. We want to hear from an Air force officer and not the official of the Defence Ministry on the issue," the bench had said.
The Air Vice Marshal T. Chalapathi told the bench of Chief Justice Ranjan Gogoi, Justice Sanjay Kishan Kaul and Justice K.M. Joseph that the force was looking for fifth generation fighter aircraft as there was no new induction of fighters since 1985 when Dassault's Mirage were acquired. They told the bench that Sukhoi 30s is the latest to be inducted, which HAL continues to produce.
When Chalapathi was asked which aircraft is manufactured in India besides Su-30MKI, The IAF officer told the bench that Light Combat Aircraft (LCA) are being manufactured in Bangalore but they are yet to be inducted. "The IAF does not have fourth or fifth generation aircraft," he added.
AS CJI Gogoi asked "Your requirement is 5th generation aircraft", Air Vice Marshal T. Chalapathi said the requirement is for a few squadrons of 4th and 5th generation fighter aircraft. Soon after, CJI Gogoi asked all the senior Air Force officers to go. "Air Marshal and Vice-Marshals can go back. It is a different war game here in the court. You can go to your own war rooms," CJI Gogoi said.
The Supreme Court on Wednesday reserved its verdict on four petitions seeking a court-monitored probe into 36 Rafale fighter jet deal with French firm Dassault Aviation even as the government admitted that there was no sovereign guarantee by the French government backing the deal. Lawyer-activist Prashant Bhushan and former Union minister Arun Shourie are among the petitioners.