No genuine reason to oppose LBT: Dhamecha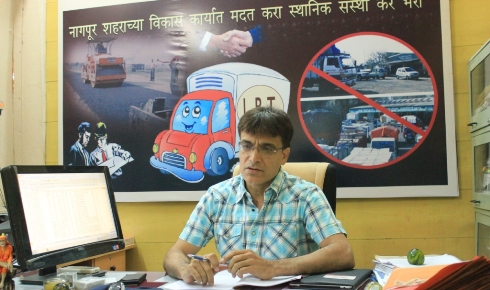 Nagpur News.
Assistant Commissioner LBT of NMC, Mahesh Dhamecha in an exclusive interview to Nagpur Today said that LBT is not a dragon or a ghost to be afraid of. In fact nobody should be affected seriously by the LBT, as LBT is not an additional tax, but it is a tax in lieu of octroi, which was being levied till March 2013 on entry of goods into the city limits for sale, consumption or use. It is a tax collected for the development of our city.  He also added that unlike Octroi, LBT gives traders a breathing time of 50 days, as the traders have to pay LBT upto 20th of the next month for the goods purchased in a month. All that is required of the traders is to maintain a simple 6 column Purchase Register in Form D (Column form) and maintain it on the event of purchases made.
Dhamecha's message to the traders is that LBT is a simple and non-tedious system which can be easily maintained by every trader. He asked them to maintain purchase register and issue Sale Bills to Customers or purchasing Dealers with LBT number printed therein. He also urged the customers to ask or demand Sale Bills with LBT number. He said that we are always ready to cooperate with traders and dealers. We are ready to hear their grievances and redress their grievances which are within our power.
It works differently from the octroi system. Traders have to compile a list of all goods procured within the month, They have to make payment once every month through NMC online portals, cheque, demand draft or cash through a designated bank or counters of the civic bodies. Unlike octroi the importer need not wait for making octroi payments at check post causing traffic congestions at octroi nakas, as the goods can freely enter the city at their doorstep without any hindrance.
He said that he has conducted nearly 25 workshops at various trade organizations to educate on information of LBT rules & its provisions, documentation etc.The NMC Commissioner Shri Shyam Wardhane himself has conducted some workshops to create the awareness about LBT. He claimed that many traders come personally to him, seeking redressal of their grievances, and he tries his level best to solve their problems.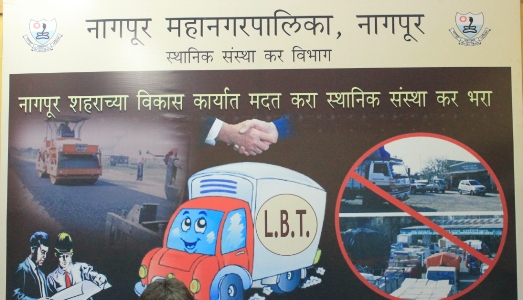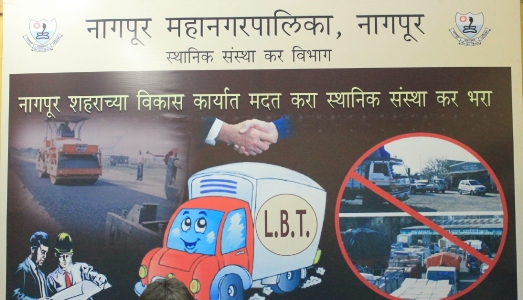 He said that all information about LBT including registration list, LBT rules, schedule, online payment etc is uploaded onto the official website: www.nmcnagpur.gov.in.
He appealed traders to pay LBT keeping in mind that it will be used by local municipal authorities in various development works in the city like making of roads, laying of pipelines, and other infrastructural improvements of the city
When asked about the reason for traders opposing LBT, Dhamecha said that he do not find any genuine reason to oppose LBT and appealed to call off Bandh against LBT.
Then What are the traders afraid of then?
Some traders are afraid of the Value Added Tax (VAT) that has to be paid on the goods. Once a trader maintains a register for LBT and pays the LBT, there is a fear that the data may be used by VAT personnel and they may have to shell out VAT also, especially for goods coming out of grey market without any genuine bills.