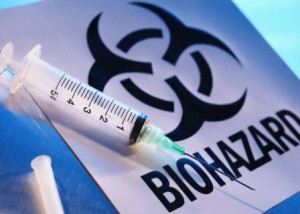 Nagpur News: In a shocking show of disregard towards hygiene in a government hospital, the cleaning staff of Government Medical College and Hospital (GMCH) simply dumps plastic bags full of waste in open spaces behind patients' wards, as the hospital seems unable to provide a vehicle to transport bio- medical waste from the wards, despite crores of rupees being pured into the hospital as funds.
The situation is similar in Mayo hospital, whose cleaning authorities are said to make an appearance only on payment day. The waste has an adverse effect on the patients as well as their relatives who wait outside the wards, a fact conveniently ignored by hospital authorities.
Around 100 kilos of medical waste come out of GMCH every day. The hospital had earlier arranged for a furnace to get rid of the waste. However, hospital staff has recently stopped carrying the waste to that spot, due to unavailability of a vehicle to ferry the waste from wards across the vast campus. The furnace has now been shut. Medical waste, hence, accumulates for days outside patients' wards, to be picked up by the municipal garbage truck once a week.
The waste is kept at places which don't reach the gaze of higher hospital authorities. Such waste is an additional cause of disease for people who go to GMCH in the hopes of being brought back to health. This is the newest and most ironic blot upon the image of a hospital already under facing harsh criticism from all sides.