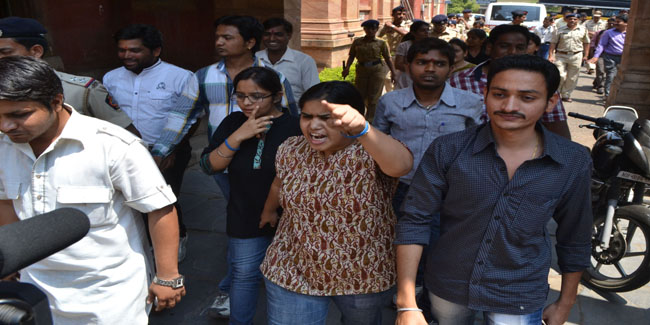 Nagpur News: Nothing concrete came out nor any respite in sight for the woes of thousands of students, whose examinations were deferred following teachers' strike, in the RSTM Nagpur University's senate meeting held on Monday. The meeting though was called to decide upon the fate of 48 examinations postponed across various streams inNagpur, but it only generated assurances from the Senate speaker.
Presiding over the senate meeting Vice chancellor Dr. Vilas Sapkal clarified that the reason behind deferring the schedule of exams was not the teachers' strike but the reluctance of principals of concerned examination centre to hold the exams. He informed that the principals turned hostile on the eleventh hour which led to postponement of examinations.
He however assured that examinations would be held soon as the teachers withdraw their agitation. He said new time-table would be announced shortly.
The senate members raised their voice against the university's move terming it as the violation of government directives to conduct examinations on schedule. They also raised suspicion over the safety of question papers lying with the principals' of various examination centers. The members demanded the university administration should immediately take these question papers into its custody.
Dr Sapkal tried to pacify the members saying that the advertisements were published twice to invite response from examinations center conveners but no response came in.
The members demanded that the university should dash the letter to the government seeking help to resolve the issue. They stressed to conduct the examination scheduled from 15th April as per the original dates.
Senate members Manmohan Vajpayee, Abhijit Wanjari, Mahendra Nirbate, D.K. Agrawal, Sameer Kene were opposed to extending dates of examinations while Baban Taywade, R.G. Bhoyar and Dhage termed it as necessary step.