Nagpur: The hearing on the various objections to metro region project began on Saturday at the office of Nagpur Metro Region Corporation Ltd. (NMRCL). On the very first day, a total of 250 objections were raised by citizens which were listened to and discussed by the officials of NMRCL. They took note of everything. However, no decisions were taken on the objections, it was learnt.
Those objections that are found to be valid and relevant will be forwarded to the state government with necessary recommendations. This was made clear by the Metro Region Hearing Committee. Hence, many who had come with high hopes that their objections would be entertained and decisions taken immediately had to return home emptyhanded.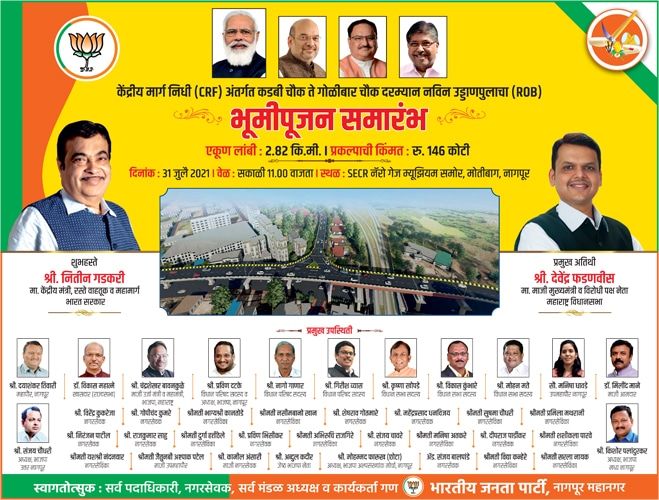 The hearing committee members constituting of senior scientist of National Environmental Engineering Research Institute (Neeri) Dr Rajesh Biniwale, former joint director of town planning department A C Munje, assistant professor of Visvesvaraya National Institute of Technology (VNIT) Dr Vijay Kapse, chairman of nagpur improvement trust Shyam Wardhane and N S Adhiri of Town Planning Department and others listened to the objections of the citizens. The process continued from 11 am to 6 pm.
Most of the objections related to changes in the reservation of land which was done arbitrarily. The committee also noted down the objections relating to their land in villages including Adka, Ajni, Ambadi, Asoli, Avandi, Babulkheda, Bina, Bhamewada, Bhawri, Bhilgaon, Bhugaon, Bidgaon, Chichoili, Chikna, Dhargaon and others. Many pointed out that the land which was reserved for industrial purposes is shown as reserved for agricultural or residential purposes in the draft plan. Some of the agricultural lands of the farmers have been shown as reserved for vehicular traffic. There was no pre-intimation regarding this, complained many.
Many pointed out to the portion of land where industries are in full flow and has been sanctioned by the NIT. However, this tract of land has been shown as agricultural land in the new draft plan. The objections were heard with the help of a big screen displaying the map of the metro region plan. Some of the objections were taken in to consideration and solved immediately.
One Anand Agrawal had purchased a tract of land at Mouza Asoli on Bhandara road.
The NIT too has given its permission to change it in to non-agricultural (NA) land. However, the same is shown as agricultural land in the draft plan. Likewise, one Nathuram Ramchandra Palandurkar had purchased a tract of land at Mouza Bhawri in Kamptee taluka for industrial use. There is a factory adjacent to this tract of land. Inspite of this, the new draft plan has shown the same piece of land as belonging to agricultural use.
Similarly, a piece of land near Mouza Bhamewada in Kamptee taluka was purchased by Navdeep Agricultural Company for residential use. This is a non-agricultural land. However, the same land has been shown as agricultural in the draft plan. An objection regarding this was submitted by the manager of the company Anand Motghare. He also informed that a big housing project is under way at the place.
Another objection came from one Namorlal Sachhani. He had purchased a tract of land at Mouza Bhawri for industrial purpose. The NIT too had given its permission for the same. However, he now finds his land under agricultural use in the draft plan. The objection regarding this was raised by his representative Karodilal Ahuja. Likewise, Neeraj Khakhar had purchased a land at Bhawri for food industries where a factory is running presently. The draft plan has shown the piece of land as agricultural, to which an objection was raised.
NIT chairman Shyam Wardhane told mediapersons that this process will continue for 20 days. He explained that to make the process simple and understandable to all, a big screen has been put up showing the Mouza, survey number of land, reservations of the land, etc.
Shyam Wardhane further said that till date 6967 objections have been received by the hearing committee of NMRCL. On the first day, 250 persons were called to look into and satisfy their objections. Some cases have been forwarded to the state government for their recommendations, said Wardhane. NIT chairman Shyam Wardhane, Dr Rajesh Biniwale, A C Munje, Dr Vikay Kapse and superintending engineer Sunil Gujaajalwar seen accepting citizens' objections to metro region draft plan in the city on Saturday.
Rajeev Ranjan Kushwaha (rajeev.nagpurtoday@gmail.com)