NMRC to utilize solar power to make Nagpur Metro environment-friendly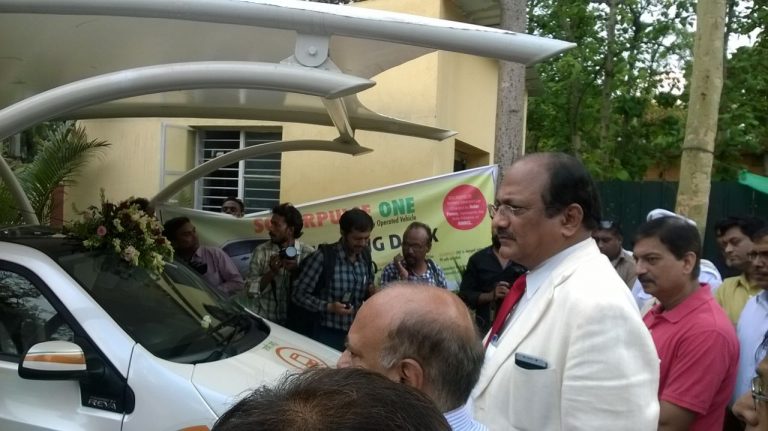 Nagpur: The authorities of Nagpur Metro Rail Corporation are striving to develop Nagpur Metro as the greenest Metro. The first phase of this project is being undertaken on war-footing. Right from the start, efforts are made to ensure that the very important project for Nagpur city is environment friendly.
On Monday, the June 27, 2016, the authorities of Nagpur Metro Rail Corporation explained about the works undertaken so far through a power-point presentation.
Nagpur Metro-Green Metro
During the course of presentation, Managing Director of Nagpur Metro Rail Corporation Brajesh Dixit said that the Green Metro is conceptualized based on these six concepts which include
Solar Energy
Selection of appropriate technology
Pollution Rejection
Energy Efficiency
Green Building
Water-recycling
It was mentioned that Nagpur Metro will be utilizing 65% of the electricity requirements through Solar Energy and the power will be supplied to Metro Rail project will be 50% lesser than the market price.
According to the authorities of Metro Rail Project, Nagpur Metro will be consuming power worth Rs 90,000/-, however, Nagpur Metro Solar System will generate power worth Rs 60,000/- and will utilize it. This solar power generation will directly benefit the citizens of Nagpur.
Nagpur Metro will have 36 Stations where Solar panels on 36 kilometers will be within ducts and 10 kilometers with boundary walls will generate the solar power.
In the first phase, 14 Megawatts will be generated per day, while 25 Megawatts will be generated per day in the second phase. In order to undertake a research on the quantum of power generation, a Solar System has been installed at the Nagpur Metro Rail Corporation's Metro Bhavan and has developed a 13 kilowatt system, of which 2500 units of power has already been generated and utilized.
Solar powered car to be utilized for feeder service
A battery powered car was also displayed. The batteries of the car are getting charged by solar power system of NMRC. According to Brajesh Dixit, the solar-powered cars are environment friendly. He added that one needs to develop a DOC system to which enables one to charge the batteries of the solar-powered car. It takes around 5 hours to charge the batteries of the solar-powered car. Once charged, the car can travel at a speed of 82 kilometers per hour and can travel for a distance of 120 kilometers. Nagpur Metro Rail will be utilizing these Solar Powered Cars for feeder system in 3 kilometers radius of each station and will provide free charging. In order to make the feeder system successful, NMRC is trying to develop a system with NMC by which one can travel on Bus Metro and Car with the same card.
NEERI assures to give 5000 square meters for Metro
The authorities of NEERI assure to give 5000 square meters for Ajni Station of Nagpur Metro. This will enable the smooth construction of the Ajni Station and can be used for parking.