Nagpur: With the financial position of Nagpur Municipal Corporation (NMC) worsening with every passing day, the Municipal Commissioner Ashwin Mudgal has stressed on financial discipline, careful expenditure, implementation of decisions in a befitting manner and new sources of income in the proposed budget for 2018-2019 presented before the Standing Committee on Friday. Mudgal also presented the revised budget of 2017-18. also proposed new sources for revenue without adding or suggest hike in present taxes.
The Standing Committee Chairman Vicky Kukreja accepted the NMC budget and he may present his budget to the general body in coming months.
Revised Budget:
In the Revised Budget for 2017-18, the expected income (including opening balance) has been pegged at Rs 1997.33 crore and the expected expenditure at Rs 1997.22 crore. "Stress is being given for overall development of Nagpur City including network of new roads, water supply to expanding city, health, lighting, cleanliness, and other basic facilities. Similarly, in the next financial year, focus will be on new projects, well-planned strategy for implementation of various projects, overall development of NMC schools, libraries, hospitals, gardens and sports facilities for youths," Mudgal said in speech.
Proposed Budget:
In the Proposed Budget for 2018-19, the total income expected to be Rs 2018.53 crore including Rs 10.64 lakh opening balance of 1.4.2018. The main income sources include Rs 75 crore from Local Body Tax (LBT), Rs 400 crore from Property Tax, Rs 155 crore from Water Tax, Rs 11.65 crore from Market Tax, Rs 110.25 crore from Town Planning Department, Rs 650 crore as GST grant, Rs 112.93 crore from other revenue grants, Rs 246.70 crore capital grant, and Rs 286.80 crore from other miscellaneous sources, loan, investment, advances, etc. NMC is contemplating to float bonds to boost income of the civic body. NMC is seeking Rs 200 crore loan in May 2018 for various projects.
Income expected:
The proposals include revenue of Local Tax Body (LBT) Rs 75 crore, Grants in lieu of LBT from State Government Rs 600 crore, other capital grants Rs 341.38 crore, Property Tax revenue at Rs 340.34 crore, Water Tax Rs 160 crore, market recovery Rs 8.95 crore, revenue from Town Planning Department Rs 69.65 crore, other miscellaneous income (including grants, loans, investments, advances etc) Rs 112.58 crore. The total revenue proposals for the year 2017-18 Proposed Budget has been pegged at Rs 1707.90 crore.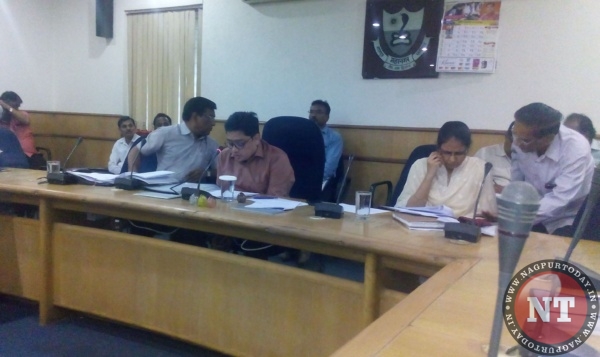 Expenditure expected:
For the year 2018-19, the total expenditure expected on various heads is Rs 2048.44 crore including Rs 401.80 crore on salaries of employees (establishment expenditure), Rs 135 crore on retirement pensions, Rs 56.61 crore administrative expenditure, Rs 253.50 crore on repairs and maintenance, Rs 126.13 crore towards share for NMC's projects, Rs 495.69 crore on capital expenditure, Rs 357.95 crore towards financial assistance for all NMC's capital projects, and Rs 221.76 crore on other miscellaneous matters. The closing balance (31.3.2019) is expected to be Rs 9.20 lakh.
Highlights
Around 100 Water ATMs proposed to be installed at various vantage places across the city. Clean and pure water in 250 ml packs, 1 litre, 20 litres in containers and without containers at affordable rates.
Out of 19 projects under JNNURM, 17 projects have been completed.
New Innovative Media Policy.
Administrative sanction for Rs 227.77 crore projects under Atal Mission for Rejuvenation and Urban Transformation (AMRUT) to ensure adequate robust sewage network and water supply for urban transformation.
Streamlining of Preoperty Tax assessment and recovery systems.
Development of new parks and gardens.
Rejuvenation of Gandhi Sagar, Ambazari, Futala, Naik and Lendi Lakes.
Cement Roads project Phase 1.
Cement Concrete Roads project Phase 2
Cement Roads project Phase 3.
Eco-Friendly crematoriums.
Dialysis facility at affordable rate.
Anti-Rabies vaccination.
Blood Bank on PP basis.
Sickle Cell treatment units.
Implementation of Waste to Energy Project.
Open Defecation Free (ODF) city
Shopping Malls, Vegetable Market, commercial complex proposed at various locations.