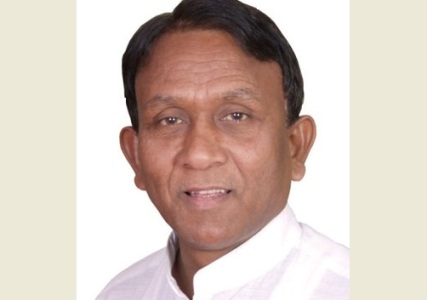 Nagpur News.
Trouble spelled for East Nagpur MLA and city BJP President Krishna khopde who failed to get any respite from the court in Transfer of Development Rights scam that brought his role under suspicion. The Judicial Magistrate First Class court has issued procedures against him along with the former Municipal Commissioner Sanjeev Jaiswal and ex-Additional Director of town Planning Vijay Goswami. The court said that prime facie case of cheating has been established against these people.
Following the court's order Congress corporator Prafulla Gudadhe Patil who is known to have taken Khopde heads on over the scam told Nagpur Today that the court's order should be respected in letter and spirit. However, he refused to comment over the issue as he said that he would have to go through the court's entire order before saying anything in this matter.
He also informed the next meeting of NMC House would prominently include the TDR issue. "Next House meeting would be entire focused on this sole issue", Patil informed.
in its ruling, the court said that no prior permission of the government is needed to prosecute former Municipal Commissioner Sanjeev Jaiswal and others in this connection. The court cited a Supreme Court ruling that offence of cheating, criminal breach of trust and forgery cannot be said to have been done by a public duty.
The JMFC Court no I in his order observed that there are sufficient ground for proceedings against all the accused for offence punishable under section 420, 468, 406 read with 34 of the Indian penal Code and issued process against all  accused and made returnable by December 4. The core issue of power of Attorney which came to an end after dishonour of cheque was ignored by NMC officials and with full knowledge they issued TDR Certificate.
The order passed in a criminal complaint filed by Mohanlal Patel- a former aide of East Nagpur MLA Krishana Khopde accusing his former mentor as king-pin of TDR scam and actual purchaser of disputed land. Along with Khopde, former NMC boss Sanjeev Jaiswal , ex- ADTP Vijay Goswami, two land owners- Bharat Patel and Sanjeev Awchat and 21 purchasers of TDR have been joined in the criminal complaint case field by Patel, Who has claimed himself as original land –owner and a staunch worker of Khopde before parting ways in 2011.
Patel claimed that Khopde and his two associates Bharat Patel and Sanjay Awchat Purchased the TDR, but their post-dated cheques bounced and the fizzled out. Despite these, they sold TDR to 21 other purchaser who were fully aware about controversy and NMC officials who buckled under pressure of sitting MLA, Patel had claimed in this complaint case filed through Adv R P Joshi. The Complaint purchased 0.89 hectars land situated in Wathoda in 2008, but in came under reservation for fire station. NMC offered transferable development right certificate to the extent of 5142.50 square meters which was actually reduced to 4553.12 square meters TDR area in zone B and C only. The power of attorney was Subject to realisation of cheques. But ignoring this fact and detailed complaint, NMC officials issued TDR right and then Commissioner and ADTP helped Khopde, the complainant has alleged and JMFC accepted this contention.
Till date, the NMC had issued TDR certificate to 24 persons and out of 4553.12 sq mt only 100.12 sq mt TDR was left. The complainant had demanded action against all accused under section 406, 465, 468 and 471 read with section 34 of the Indian Penal Code.