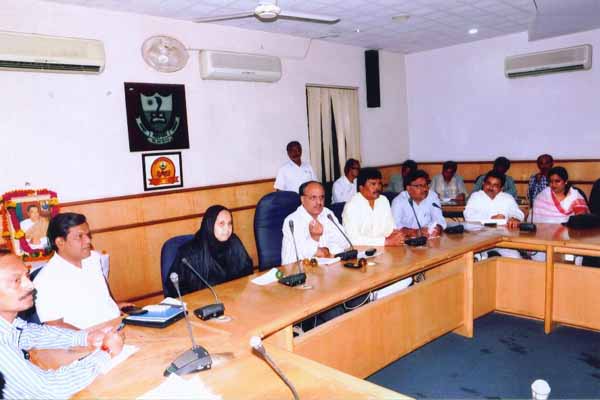 Nagpur News: The Nagpur Municipal Corporation (NMC), after considering its rightful duty to protect the citizens from diseases like Dengue, Malaria, and other epidemical diseases, has decided to kill the killer diseases themselves with a heavy hand. The NMC is undertaking a massive drive on August 23 to create awareness amongst citizens in order to get the rid of the diseases and make the city free of the scourge.
The Mayor Anil Sole called a meeting in this connection and reviewed the arrangements made for the drive. The meeting was attended among others by Deputy Mayor Jaitunnabi Ashfaq Ansari, Medical Services and Health Committee Chairman Ramesh Shingare, Senior Corporator Sunil Agrawal, Committee Member and Corporator Dr Prashant Chopda, Dr Uma Gathibandhe, Sagar Lokhande, Corporator Sheela Mohod, Additional Deputy Commissioner Ravindra Kumbhare, NMC Secretary Harish Dubey, Education Officer Deependra Lokhande, Medical Officer (Cleaning) Prakash Urkude, Medical Officer (Hospitals) Dr Savita Meshram, Malaria and Hattirog Officer Jayashree Dhote, Assistant Commissioners Ganesh Rathod, Rajesh Karade, Vijay Humne, Mahesh Morone, Raju Bhivgade, Milind Meshram, Subhash Jaideo, Ashok Patil, Dilip Patil (PWD)  and others.
Malaria and Hattirog Officer Jayashree Dhote informed the meeting that 2 lakh pamphlets have been printed for the awareness campaign to be held on August 23. Similarly, 2000 posters and 500 banners have been printed for the purpose.
The Mayor said the awareness drive on the diseases like Dengue, Malaria and other diseases would on the same line as was Mission Nag Nadi Cleaning which was a grand success. All the NMC employees would distribute the pamphlets at every square of Nagpur. Similarly, the Education Officers should issue directives to NMC schools to take out rallies of students. The drive will not be successful without the participation of the citizens, various Government departments including police, home guards, schools, colleges, NGOs in creating the mass awareness over the prevetion and eradication of the deadly diseases, the Mayor Anil Sole asserted.