Demonstrated for nearly 6 hours in front of University

Nagpur News: The ever continuing agitation by various groups of engineering students from different colleges of Vidarbha is not stopping creating head ache for the University officials and disrupting work at VC's office. Tuesday 20th August morning again hordes of engineering students under the aegis of  students organization of Nagpur university (STON) started gathering outside University premises to press their demands. Aam Aadmi Party and other political parties were leading these students in discussions with the university officials from morning.
The students are demanding 'carry on 'in their exams. The students along with MNS had carried agitation for carry on and 17 other demands on 1st August at University premises. Again on 8th august at Sanvidhan chowk under the banner of STON these students had staged a day long dharna.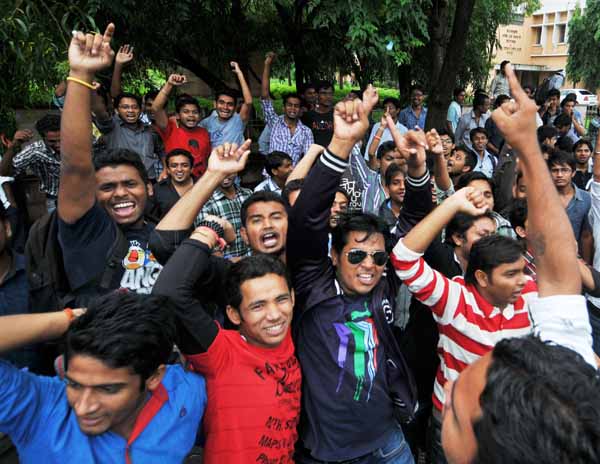 Pro Vice Chancellor, RTMNU Mahesh Yenkie and Registrar, RTMNU Ashok Gomase held discussions with the students and their representatives. They assured them that their demands will be considered if it comes under the rules and regulations of the University. The 'carry on' demand comes under the purview of the Government. The decision on the demand for the exams fees issue which was placed before the BOE will be communicated to them through media was told to them. The students after hearing this got agitated and they started protesting.
It seems there is a miscommunication between the students and the college officials in presenting their demands to the University. The students are unable to place their demands according to the rules and regulations. Whereas the University officials told them that they will try to solve their problems.