NMC's incomplete 'environ-report' made public sans approval of House

Maharashtra Enviro Limited uploaded the report on internet.
Mayor says, "Does'nt matter, at least we will receive suggestions from citizens who read the report."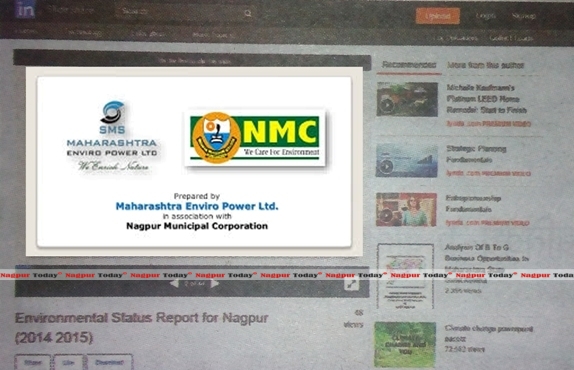 Nagpur: In a surprising development, Nagpur Municipal Corporation's incomplete report on environmental status has been uploaded on internet. The report was tabled a couple of days ago (Monday) for approval in the general body meeting, but it could not be approved as it suffered several lacunae. Though Mayor Pravin Datke had directed that the report with the help of NEERI be resubmitted to the House for discussion and approval, the important report without the approval of the House was made public by Mahashtra Envio Limited.
When the report was tabled in the House, members of the House pointed out several lacunae in it. It was also demanded that the entire process of report making, right from the initial efforts made by Congress corporator Rekha Barahate till its final submission, be investigated/ verified. Mayor Datke had then ordered that a fresh report under the supervision of NMC Commissioner be prepared but with the cooperation from NEERI on various objections/ suggestions, and the report was to be resubmitted in the next meeting of the NMC House.
As per rule, a report can be made public only after approval of the house. Ignoring all norms, the Maharashtra Enviro Limited released the incomplete report on internet. Such an act has raised a question on the credibility of constitutional institution, NMC.
Importance of Report
Under the provisions of Bombay Provincial Municipal Corporations Act, 1949, section 67(A), it is mandatory that all urban local bodies are supposed to table in their general body meetings the environment status report, as per laid down norms and situation of environment. It is also to be ensured whether all norms have been followed to protect the environment of the city. On the basis of quality of environment, the development of the city is made and environment management measures are taken. NMC studies the environment of 12 residential areas, 13 commercial organisations and 5 industrial sectors.
Details of journey of report submission
NMC entrusted the work of preparing environmental status report to Maharashtra Enviro Limited on June 2, 2015, for which Rs 7,80,000 are to be paid to the company as its charges. For preparation of such report, the tenders should have been invited from various environmental institutions, but the Mayor under his special powers gave contract to the said company (Maha Enviro). On August 28, 2015 NMC Commissioner Shravan Hardikar held a review meeting of the report which was presented by Enviro's Mohammad Ali Sheikh.
During the meeting, various experts from environment related organizations, like, Kaustubh Chatterjee (Green Vigil), Dr Rajkumar Khapekar (SMV), Amit Mishra and Kanti Sonkusare (Traffic) gave their suggestions on environment protection. Another meeting to discuss the suggestions was fixed for September 11, 2015 and to make necessary corrections in the report. This meeting was attended by Leena Budhe (Center of Sustainable Development) and a representative from Green Vigil who had mooted certain corrections to be made in the report, but no corrections were made in the report. The Enviro company was accordingly intimated on October 13 to comply with the suggestions by sending a letter to NMC's traffic department.
Major issues ignored in report
1) No clear cut mention of air pollution norms; 2) Advice was given not to release sewage into Nag river, and untreated sewage; 3) There was no mention of pollution in water tanks of city and also water pollution data; 4) Report mentions solid waste as 846 metric tons per day while NMC and voluntary organizations claim 1100 metirc tons; 5) Difference of only 10 decibel was shown in sound pollution caused in day and night, which is found doubtful; and 6) Many experts were unaware of report, as they were not invited in the meetings.
Environmental experts like Dr Jivan Dotulwar said that he had no awareness about report. He had got invitation on Oct 20. Even Kaustubh Chatterjee had given suggestions but whether they were incorporated in the report, he was not sure. On the other hand, Rekha Barahate (Cong-corporator in NMC) said the report was 'copy and paste' of previous year's report. This year fluoride was found in water, but there is no mention in the report.
Mayor Datke however said that the report would be reconsidered, and even if it has been made public, it would help us in terms of knowing citizens' suggestions.
After publication of this news in local news dailies, the Maharashtra Enviro Ltd removed the NMC's incomplete environmental status report from the internet.