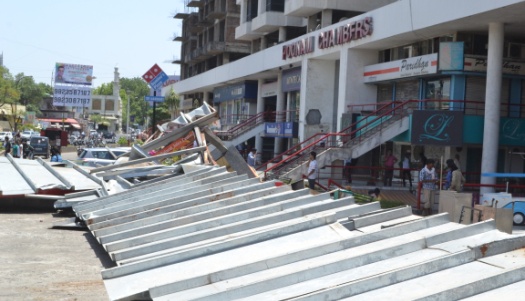 Nagpur News:
The Nagpur Municipal Corporation's (NMC) Anti-Encroachment Enforcement Department squads undertook a massive anti-encroachment drive and smashed a large number of encroachments and seized in great quantity of material put up illegally by various small or big establishments.
The most major encroachment was demolished in front of Poonam Chamber parking place on Manewada Road. An Ice Cream Parlour and a Chinese Fast Food Centre which were erected at parking place were completely demolished triggering panic among other shop owners who immediately rushed to remove their goods displayed in front of their establishments.
Similarly, several temporary stalls put by flower sellers which occupied major part of road and obstructed smooth traffic near Mental Hospital Square on Manewada Road up to Godhni were smashed and dozens of "Hath Thelas" selling fruits and other goods were seized. As the anti-encroachment drive started moving in other parts of the Manewada Road, the NMC squads showed no mercy and destroyed several temporary sheds erected by vegetable sellers and again seized over 30 "Hath Thelas". The bulldozers of NMC squads not satisfied with the severe action against the encroachers went ahead and again grounded many temporary sheds constructed by "Puja" material sellers and the men in the squads seized "Hath Thelas" providing their "services" to vehicle owners who used to stop to purchase several kinds of goods the "thelas" offered.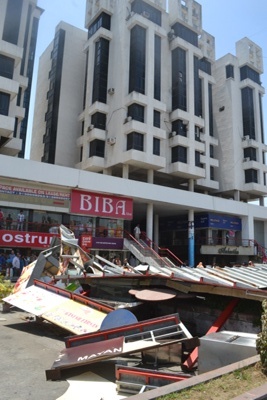 The next target of the bulldozers were the "Jhopadpattis" (Huts) of nomadic tribes which were constructed in large number on a vacant place on the roadside which, too, were a hazard to smooth traffic on the road. The houses were also not spared as several small or big encroachments in the shape of extended parts of walls, illegal rooms and other parts listed as encroachments were smashed with no mercy.
Similarly in Gandhibagh and Satranjipura Zones, countless number of temporary sheds erected by petty traders came under the bulldozers and here, too, several roadside "Hath Thelas" were seized. The "Hath Thela" owners at various points were issued challans and were told to pay the amount if any owner wanted his "Thela" returned to him. However, according to some squad members, the seized material would not be returned even if the owners pay the challan amount thus making it sure the "thelas" do not crop up at same spots again. Similarly in Gandhibagh and Satranjipura Zones, some residential houses became the target of the NMC's Anti-Encroachment Enforcement Department.
The massive anti-encroachment drive was undertaken under the guidance of NMC's Enforcement Department Superintendent D R Gajbhiye. Several other officials and workers took part in the drive.