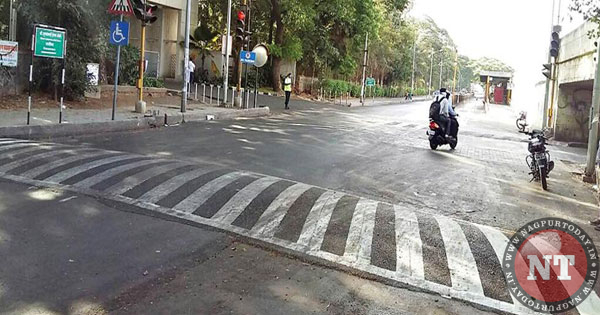 Nagpur: A day after sources reported about Nagpur Municipal Corporation (NMC) and other civic bodies' failure to remove fibre made speed breakers from city despite clear orders from Nagpur bench of Bombay high court, the NMC officials submitted a detailed information on their numbers to media on Tuesday.
Accordingly, the civic body has found about 311 such breakers, all installed illegally in its ten zones, and it was able to remove 193 of them, which also included cement and tar made structures that were not as per the Indian Roads Congress (IRC) norms. The information submitted by NMC official on the directives of commissioner Abhijit Bangar vindicated TOI's stand that the civic officials failed to remove the back-breaking breakers, also referred as rumblers, from majority of its ten zones. Only Laxmi Nagar, Dharampeth and Mangalwari zones are the exception where all of them were uninstalled following large scale complains from the residents.
As per the NMC's Traffic Department, all of 311 rumblers were laid without informing them or seeking their consent, which is mandatory. After HC's contempt notices to Bangar and others, the civic officials started removing them, but at snail's pace, despite clear instructions from the commissioner.
It was only in Laxmi Nagar Zone that they were able to remove all 130 of them in a record time, but only after its assistant commissioner Suvarna Dakhane received contempt notice along with Bangar on a plea filed by lawyer Raghvendra Joshi. This zone has the dubious distinction of installing highest number of rumblers among all ten zones, followed by Ashi Nagar with 82 and Dharampeth with 18. "All 130 rumblers were installed without our knowledge and most of them were in Prabhag No 16. We started removing them phasewise.
We however, couldn't identify the persons who actually installed them. From now onwards, we will keep a strict watch on the citizens with the help of CCTV cameras," Dakhane told media. She said they had constituted a special cell under deputy commissioner, who will regularly visit all areas under Laxmi Nagar zone's jurisdiction and report any violations.
NMC official from its Traffic Department said they had instructed all assistant chairmen of ten zones to remove such fibre breakers, after HC's notices, but none of them had taken it seriously. "We've directed repeatedly to avoid contempt, but officials at zones like Dhantoli, Gandhibagh, Satranjipura, and Ashi Nagar are not paying heeds," he told sources.