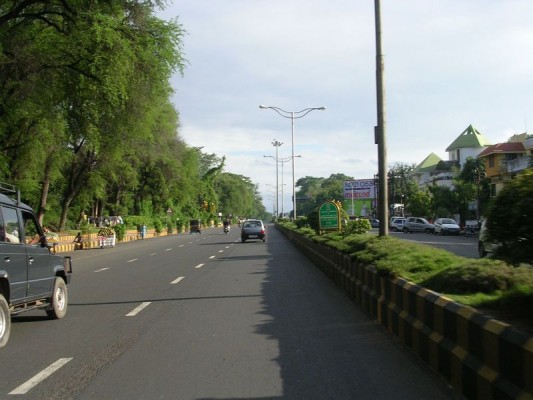 Nagpur News: The Nagpur Municipal Corporation has finally gone restoration and repairing of roads in Nagpur. The roads were bombarded by the furious rains that lashed and is still lashing the city since past 20-odd days. The conditions of the roads looked like similar to a war zone. And so are the efforts of the NMC to restore and repair them on warfooting.
The restoration and repairing is being carried out under Zone-level and by the Hot Mix Department of NMC. The Zones have restored or repaired 1065 potholes and the Hot Mix Department has so far covered 746 potholes. This operation was claimed by the Standing Committee Chairman Avinash Thakre on Tuesday (August 13). "The restoration and repairs of roads would be given the most priority and the Zones would no be starved of funds," declared Thakre.
It may be recalled, the NMC Commissioner Shyam Wardhane on Saturday (visited all the Zones and inspected the condition of roads.  Thereafter, the Mayor Anil Sole called a meeting on Tuesday of all 10 Zones and reviewed the situation. After the meeting, the Standing Committee Chairman Avinash Thakre told a press conference that the NMC has restored and repaired 33,299.30 sqm of  potholes in the 10 Zones of Nagpur. The NMC is not discriminating in covering the potholes even hundreds of potholes are coming under the jurisdiction of PWD and NIT. A total of 66 km of roads in Nagpur belong to PWD. Similarly, 14.65 km of roads of NIT, 43.60 km of roads of National Highway, 6.60 km of roads of State Highway, and 62.57 km of roads of other districts pass through Nagpur. All the potholes in these roads are being restored or repaired by the NMC, informed Thakre. Now, only 400 potholes have remained unrestored in Nagpur, claimed the Chairman of the Standing Committee. Thakre appealed the citizens to report bad road condition to to Zone Officer of their respective Zones.
The meeting was attended apart from the Mayor Anil Sole and Statnding Committee Chairman Avinash Thakre, include Deputy Mayor Jaitunnabi Ansari, Ruling Party Leader Pravin Datke, former Standing Committee Chief Sandeep Joshi, NIT Trusty Ravindra Bhoyar, Water Reservoirs Committee Chairman Sudhakar Kohale, NMC Commissioner Shyam Wardhane and Additional Commissioner Hemant Pawar.
BOX
Zone-level potholes in Nagpur                                  Potholes restored or repaired in Zones
1)      Laxmi Nagar Zone:           175                                  123
2)      Dharampeth Zone:           170                                  58
3)      Hanuman Nagar:               70                                    60
4)      Dhantoli:                             92                                    92
5)      Nehru Nagar                       216                                  216
6)      Gandhibagh                        133                                  133
7)      Satranjipura                        65                                    40
8)      Lakadganj                            250                                  140
9)      Aasi Nagar                           80                                     20
10)   Mangalwari                         237                                   176
Total                                       1488                                   1065
Hot Mix                                   746
Total                                       1811