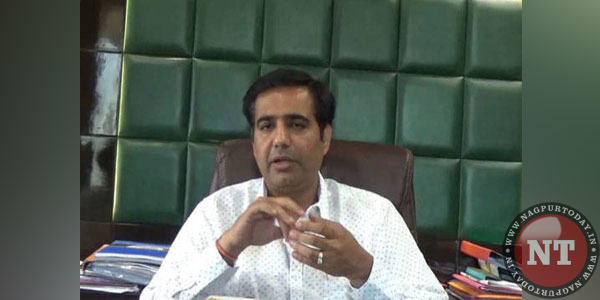 Nagpur: The Chairman of NMC's Standing Committee Virendra Kukreja on Tuesday said that the civic body will clear pending dues of Rs 135 crore in the next three days.
Talking to media persons after the meeting of Standing Committee, Kukreja said that around Rs 100 crore as difference of GST grant (earlier NMC used to get Rs 52.57 crore GST grant but now getting Rs 86.50 crore) has been deposited in NMC account. Rs 35 crore more will be added to the amount and total Rs 135 crore would be distributed for clearing pending dues to various stakeholders. Bills of cement road contractors till September 2018 will be cleared along with dues of Rs 6.32 crore of contractors carrying out development works in Hudkeshwar-Narsala areas. Bills of contractors carrying out works under government grants pending since September 2018 will also be paid. Dues of contractors who carried out development works up to July 2018 will be cleared under NMC capital fund subject to clearance from NMC's Finance Department. The department has cleared bills of Rs 10 crore in March, Rs 6.84 crore in April, Rs 11.08 crore in May, Rs 9.02 crore in June and Rs 20.46 crore in July. These dues will be paid in the next three days, Kukreja said.
The Chairman of NMC's Standing Committee further said that the Electric Department has been directed to install one lakh LED lights by May 2019. The NMC coffers received Rs 120 crore towards Property Tax dues till December 9. A list of defaulters whose cases are pending in court till December 17 will be made and they will be given time limit to clear the dues. The Additional Municipal Commissioner Ravindra Thakre has been assigned the responsibility to look into the matter, Kukreja said.
He said that till now 40,000 LED bulbs have been installed out of which 7000 are new ones. The total cost of the project is of Rs 270 crore. A bank of Rs 59 crore has been obtained for development of infrastructure. For selling of the changed lights, tenders have been floated. The civic body has been financially burdened for carrying out various works of nallah including repairs. Discussion in this regards was held with Guardian Minister who has given Ward Officers the responsibility of preparing detailed proposals and approximate expenditure and submitting them to Standing Committee before December 17, Kukreja said.