NMC squad removes encroachment from Asinagar zone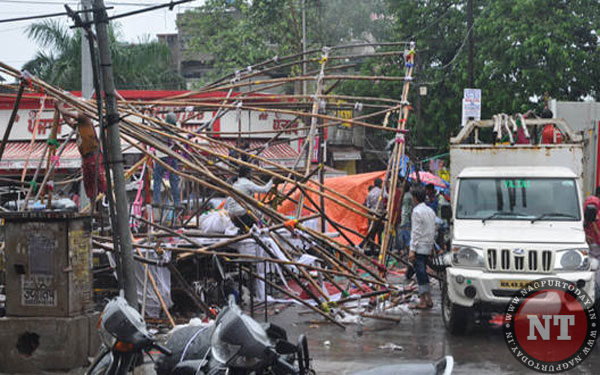 Nagpur: After a break of over a week, the enforcement department of the Nagpur Municipal Corporation (NMC) once again got into action and re-started the 'encroachment-free footpaths' campaign launched by Commssioner Virendra Singh. On Monday, the NMC squad removed around 10 makeshift rakhi shops in Asinagar Zone.
The NMC Commissioner had done a surprise inspection in Asinagar Zone and found encroachment on footpaths at many places. Acting on his instructions, the NMC squad conducted drive from Indora Square to Panchpaoli police station and removed 10 temporary shops of rakhi from both sides of the road. Enforcement department chief Ashok Patil, enforcement inspector Sanjay Kamble, Assistant Commissioner Ganesh Rathod were present during the action along with Nitin Manthanwar, Jamshed Ali, Ajay Pazare and others.
After clearing encroachment from footpaths upto Kamal Takies Square, the NMC squad then moved towards Panchpaoli police station, where many temporary shops and kiosks were made by the people due to no action since long time. The NMC squad seized four stalls of tea and snacks and removed a salon. The squad also removed encroachment from in front of the police station and community hall.
The NMC Commissioner had declared strict action against encroachers across the city and accordingly the NMC's three squad were expected to take action every day in different zones. However, on Monday, two squad were engaged in Asinagar Zone while no action action was taken in other Zones in the city.