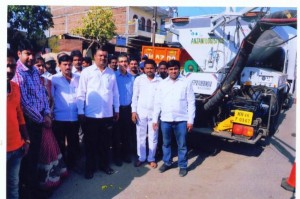 Nagpur News: With the long- awaited jetpatcher machine having finally arrived and been inaugurated by NMC (Nagpur Municipal Corporation) Standing Committee Chairman Dayashankar Tiwari on Makar Sankranti, the municipal corporation seems to be finally ready to fulfil its promise of filling all the potholes in Nagpur.
The machine is expected to speedup road repairs to a big extent, and will enable NMC to carry on repairs even during rains. According to a press release issued by the NMC, the machine contractor will continue regular repairs till 28th February, and will issue a helpline number in the meantime. The helpline is for citizens to register complaints and notify which areas of the city need repairs. From 1st March 2013, all contractors are mandated to heed complaints and repair potholes within 48 hours of the filing of complaint.
A number of NMC officials were present on the occasion of inauguration and announcement.