NMC-OCW plans 24-hrs interconnection work near Ramzoola on July 15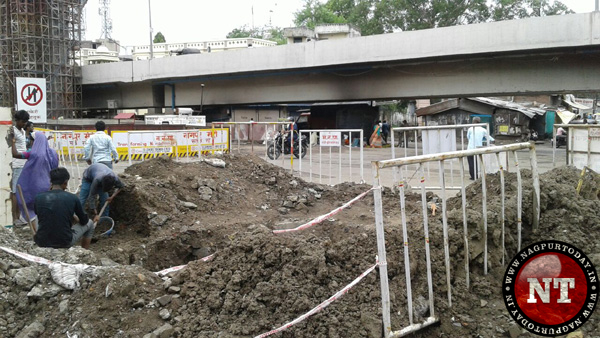 Nagpur: Nagpur Municipal Corporation and Orange City Water (OCW) have planned to take 24-hours shutdown for interconnecting Boriyapura ESR feeder line with Killa Mahal ESR line near Ramzoola, opposite Poddareshwar Ram Mandir on July 15 (Saturday).
The 24-hours interconnection work will start on July 15 (Saturday) from 9 am till July 16 at 9 am (Sunday).
Following this major utility shifting work many areas in Gandhibagh zone like Fort I ESR, Fort II ESR's, Lakadganj ESR, Boriyapura ESR, Killa Mahal ESR and Sitaburdi Fort –I ESR's will remain affected.
Areas to remain affected are:
Sitabuldi Fort-1 – Bajeriya, Santra market, Marwadi Chawl, Bhaldarpura, Gitanjali sq. area, sevasadan sq. area, Jyoti nagar, Dhondaba sqr., , Narayani mata mandir hansapuri, Backside namak karkhana, Itwari, Gandhibagh area, Nanga putala, Itwari post office area, Tanga stand sqr. Area, Bapurao galli, Nikalas mandir area, Gandhiputala sqr. area, Darodkar sqr. area, Badkas sqr. Area, Chitnis park area., Dakshinamurti sqr. Mahal area, New Shukrawari road, Shingada market, Tulshibagh road, Ganjipeth, Kothi road, Dasra road, Tahsildar Masjid, Matangpura, Kashibai Mandir area, Rahatekarwadi, Ghadge Taka, Arab ka Kuwa Tulsibagh Road, Gujarwada, Pataleshwar road, Bandhar Khana, Gondhadipura, Pachang Galli, Behind Narsingh Talkies.
Killa Mahal ESR – Killa, Mahal, Shivaji Nagar, Nandaji Nagar, Chitanvispura, Naik Road, Ratan Collony ,Alimiya Khamb, Soniyagandhi Slum, Bhonsla Collony, Tulsibagh Road, Sangha Building Area, Bhuteshwar Nagar, Ayachit Mandir Road, Badkas Sq., Renuka mata Mandir, Kumbharpura, Sai Mndir area, Hamalpura, Nawabpura, Telipura, Nawabpura, Upadhyay Road.
Boriyapura ESR – Takiya diwan, Kala zenda takiya diwan, Pan wali galli, Baraipura, Lalpatthar, Nandbaji dob, Kosarkar mohalla, Timaki Tin khamba, Golibar sq. to Ganjakhet sq. both side, Bajirao Galli, Deoghar pura, Pathrabe mohalla, Backside Bagadi Wachnalay, bhandara road. Nalsaheb sq. area. chuna masjid to nanbaji dob area karanjikar lane, Reshamoli,bohara masjid
Lakadganj ESR:  Juni Mangalwari, Bhujade Mohalla, Gujari Chowk, Dhaopodkar Galli, Faye Galli, Sweepar Colony, Pintoo Saoji Galli. Behind Rahate Hospital Buddhapura.
Citizens to note that water supply through Tankers to the affected areas during shutdown work shall also not be possible.
NMC-OCW has requested citizens of affected areas to co-operate.
Citizens can make any water related query, complaints at OCW on a Toll Free Helpline- No 1800-266-9899.
For any other information or complaints regarding water supply please contact NMC-OCW Toll Free Number: 1800-266-9899