Nagpur: Praising the start of air conditioned city bus service, Deputy Chief Minister Devendra Fadnavis asked the Nagpur Municipal Corporation (NMC) to expand the fleet further and promised to provide funds for induction of additional 250 buses.
Union Minister Nitin Gadkari lauded the initiative and said it's the start of a new era of providing comfortable travel for Nagpurians that too at an affordable cost. Fadnavis and Gadkari were speaking after induction of first lot of 200 electric buses in Aapli Bus fleet in a programme organised by NMC. The programme was held at Samvidhan Square on Sunday evening.
Speaking further, Fadnavis said, to cut down the carbon emission in city, electric buses are being inducted in fleet of civic body. There are plans to have a fleet of about 800 buses and about 200 are now ready for rollout. State is ready to bear the expenditure for inducting another lot of electric buses. He also suggested putting up electric display system at bus stop for providing information about stoppages of bus with their number and said, the State will provide funds to NMC for the same also.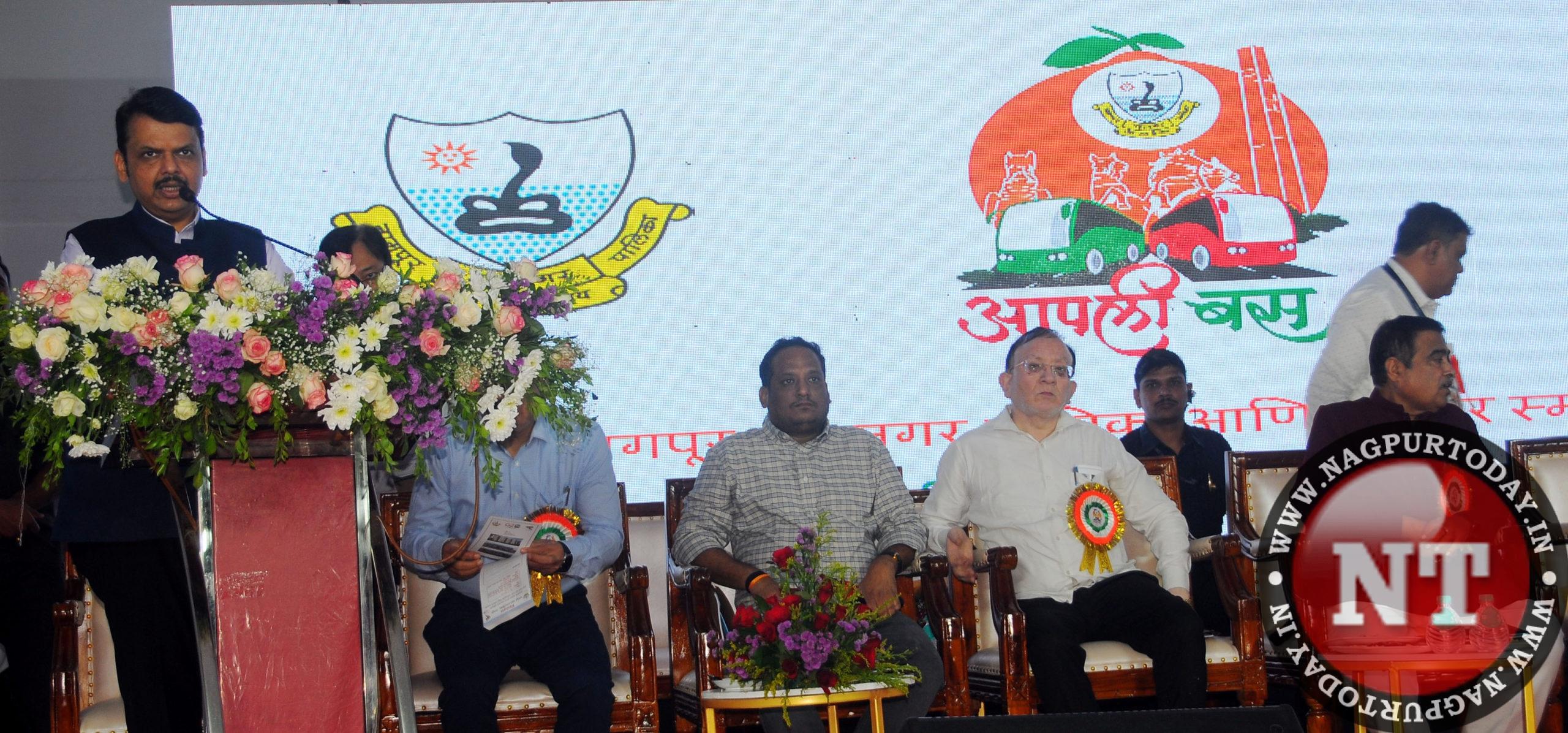 Pravin Datke, MLC, Krishna Khopde, MLA, Sandip Joshi, ex-Mayor, Municipal Commissioner Radhakrishnan B, NSSCDCL's CEO Ajay Gulhane, Additional Municipal Commissioner Ram Joshi were also present.
Gadkari, in his speech, underscored the need to tackle the rising pollution. For the same, there is need to increase the fleet of electric buses. Also, the Union Minister underscored the need to ensure comfortable seating arrangement for Divyang and senior citizens in the city buses. Further, he batted for single ticket for travel by metro and city bus. Similarly, NMC should scrap all the vehicles that are 15-years old and said it will get funds for purchasing new vehicles.
Gadkari also thanked Fadnavis for allocating Rs 1,000 crore for establishing logistic park and funds for city bus service. The programme was conducted by NSSCDCL's PRO Manish Soni, while a vote of thanks was proposed by Ajay Gulhane, CEO.