Nagpur: Nagpur Municipal Corporation & Green Vigil Foundation commemorated Earth Hour on 25th March from 8.30 to 9.30 pm at Eternity Mall, Nagpur.
Earth Hour is a worldwide movement organized by the World Wildlife Fund (WWF). The event is held annually, encouraging individuals, communities, and businesses to turn off non-essential lights and electric gadgets , for one hour from 8:30 to 9:30 p.m., as a symbol of commitment to the planet. It was started as a lights-off event in Sydney, Australia, in 2007. This year Earth Hour is being celebrated in 190 countries across the world.
Members of Green Vigil Foundation interacted with shopkeepers, citizens and all stakeholder groups about climate change , global warming ,climate action, energy conservation, shifting to renewable energy sources, adopting low carbon lifestyles & green living practices, etc. During the Earth Hour Campaign, the electrical appliances of Eternity Mall were turned down by 70%.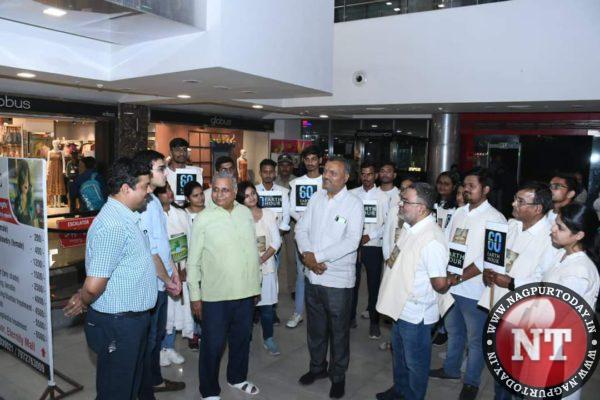 Inspired by the concept of Earth Hour, the then mayor of Nagpur Anil Sole had initiated the Poornima Diwas Campaign, which is being conducted by Nagpur Municipal Corporation and Green Vigil Foundation on every Poornima day since 2014.
Dignitaries present during the campaign were Dayashankar Tiwari, Ex Mayor, Nanda Jichkar , Ex Mayor, Ajay Mankar , executive engineer,NMC, Kaustav Chatterjee, Founder GVF, Ramswaroop Sarda, Rajesh Sarda, Rajat Sarda, Lakshya Sarda & Ashish Barai of Eternity Mall.
Members of Green Vigil Foundation , Surbhi Jaiswal ( Team Lead), Mehul Kosurkar, Sheetal Choudhary, Bishnudeo Yadav, Shriya Jogey, Priya Yadav, Tushar Deshmukh, Deepak Prasad, Parth Jumde, Kajal Pilley worked hard for the success of the campaign. Students of "REEF" of Shri Ramdeobaba College of Engineering and Management also joined the campaign.