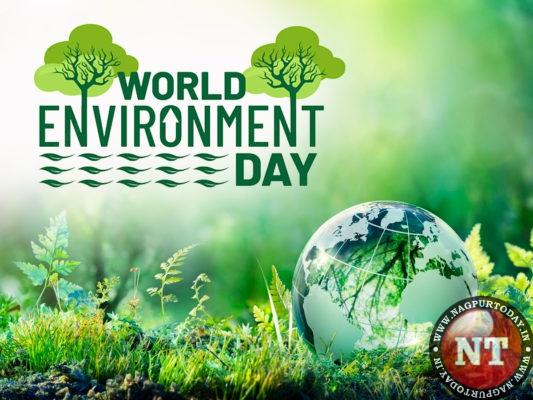 Nagpur: The Nagpur Municipal Corporation and Green ViglI Foundation celebrated World Environment Day by conducting public awareness campaigns at Gokulpeth Market and Khamla Market on this year's theme – Beat Plastic Pollution.
During the campaign, members of Green Vigil Foundation along with Team of Dharampeth zone and Laxminagar zone interacted with citizens, shopkeepers, street vendors on ill effects of usage of single use plastic, eradication of single use plastic, adopting circular economy, urgency of adopting green living practices & environment friendly lifestyles. The message was also conveyed by various posters and placards focussing on phasing out of single use plastic and adopting sustainable options with change in lifestyles and habits.
Surbhi Jaiswal, Team Lead, Green Vigil explained, our campaign is aimed to reach out to the common man on why we should not use single use plastic and suggest possible alternatives. She stated, plastic is non biodegradable, hence, remains in nature for years, plastic carry bags below 50 microns are choking our sewage system, rivers and oceans are polluted with huge deposition of microplastic, leaving waste food in plastic carry bags are causing death to cattles. A ban on plastic can result in 25% reduction in emission of greenhouse gases. However, to eradicate single use plastic, we need to come out with a sustainable alternative to single use plastic at the same price, she added.
Prominently present during the campaign were Prakash Warade, Deputy Commissioner, Kiran Bagde, Asst. Commissioner, Dr Gajendra Mahalle, Deputy Commissioner, Manish Soni, NMC PRO, Deendayal Temberkar, Zonal Officer, Sanitary Inspectors of Respective Zones.
Kaustav Chatterjee, Surbhi Jaiswal, Mehul Kosurkar, Sheetal Choudhary, Bhisnudeo Yadav, Shriya Jogey, Priya Yadav, Parth Jumde, Trupti Bangadkar along with NDS Team and staff of Dharampeth & Dhantoli Zone of NMC worked hard for the success of the campaign.