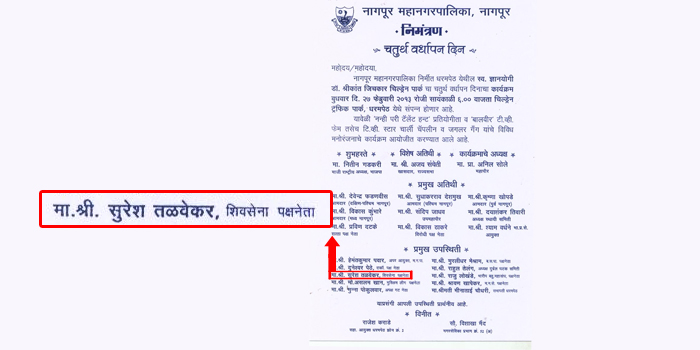 Nagpur News.
More worms keep coming out of Nagpur Municipal Corporation's apathy towards keeping itself update on series of information. Despite being brought to the knowledge about the erring side, NMC fails to act against the concerned official and employees. This inaction has proved dear for the image of NMC which is now being dubbed by most as the department of outdated people who remain aloof from the development in the department itself.
The naïve handlers of NMC's PRO department have been the cause of concern for all the blunders being caused. The latest in the series is an invitation from NMC which still terms former Shiv Sena ruling party leader still serving the post.
Last week only, Nagpur Today reported on how carelessly the information has been misquoted in NMC's information booklet. The news reporter Sanjeev Singh Tomar who died two years ago in a road accident is still shown as working reporter. This apart, the name another ex-journalist Shailesh Arya who quitted the profession long before still finds mention in this information book.
The NMC's Corporation Secretary Harish Dube has been beating about the bush without any action into the matter. Till date he is awaiting the reply of his show cause notice issued to incharge PRO Kolhatkar who seems to be least bothered about the blunder.
A programme to commemorate 4th Foundation Day of Children's Traffic Park has been organized on February 27. The programme would be inaugurated by BJP leader Nitin Gadkari where Ajay Sancheti would be the special guest and Mayor Anil Sole would preside over the programme.
In the invitation the former ruling Shiv Sena leader Bandu Talwekar is referred to as ruling party leader. As a matter of fact the post is being currently served by Shiv Sena nagarsewika Sheetal Gharat.
When Nagpur Today contacted PRO in this regard, he passed on the responsibility to the ward officer of Dharampeth zone.