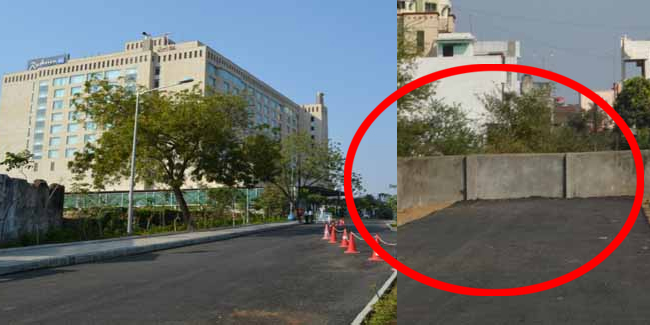 Nagpur News : The Commissioner of Nagpur Municipal Corporation (NMC) Shyam Wardhane has assured to look into the goof up in the matter pertaining to the Hotel Radisson Blu approach road. The residents of the housing societies connected to this road have been demanding immediate removal of the wall that has been deliberately erected to block the passage from their localities to Wardha road, eventually allowing private use of the road.
Talking to Nagpur Today, Wardhane said that he would certainly look into the matter to check if there is any violation of the act. "We are thankful to you for bringing the blunder to our knowledge. I will assign the concerned official to inquire if there is any violation being committed on the hotel's end or in the construction of this approach road," Wardhane said to our correspondent. He assured that if any violation is found then action would be taken.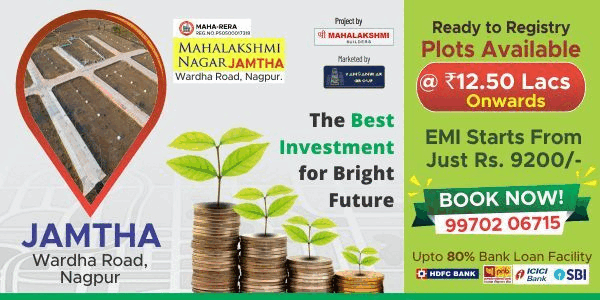 In its series of reports Nagpur Today has been exposing the flaws and tactics applied in the construction of the concerned approach road in order to benefit the hotel.
Sources revealed that the concerned road was constructed in very short span of time, especially in the times when numbers of housing societies in the plush localities of Nagpur have been waiting for years to get the approach road done to their colony.
Sources informed that the Hotel Radisson did not have its own parking space and hence it smartly got NMC involved in constructing this road linking the societies like Azad Hind, Nagbhoomi and Anusuya to Wardha road. Later the passage from these societies was blocked by raising a wall so that the hotel could use this place as their private parking place.
The road which was constructed in the name of approach to these societies through public funds is now being completely put to use for the private commercial property.
Residents of these societies have alleged that the NMC had deliberately blocked the road in collusion with hotel authorities. They have warned of dragging both NMC and hotel administration to the court if the path is not cleared soon.
Sources even revealed that NMC is now planning to develop a garden in front of the hotel to enhance its landscape.
Nagpur Today spoke to a section of office bearers of the local body in this regard. Here's what they said…
'There was some dispute'
– Sunil Agrawal, Corporator
"The approach road to Hotel Radisson was maintained and developed by Maharashtra State Road Development Corporation (MSRDC). I suppose there was some dispute with the land owner there, which was resolved later on. Authorities at MSRDC must be contacted for the details. As per my knowledge, the road is not illegal."
'Someone has to take charge'
– Sandeep Jadhav, Deputy Mayor
"It cannot be that no authority is responsible for the road. Some or the other – NMC, NIT, PWD or MSRDC – has to take the charge. If the road does not belong to the hotel, then who constructed the road? I will look into the matter soon."
'Political pressure may be the reason for no action'
– Avinash Thakre, Corporator
"As per my knowledge, the road has to be built only after the permission from MSRDC. The footpath near the road is broken and this can be done only when the authorities at MSRDC have given a nod. There were many issues raised earlier regarding such roads in the area, but no action was taken. May be strong political pressure or any other strategy must have sanctioned the road."