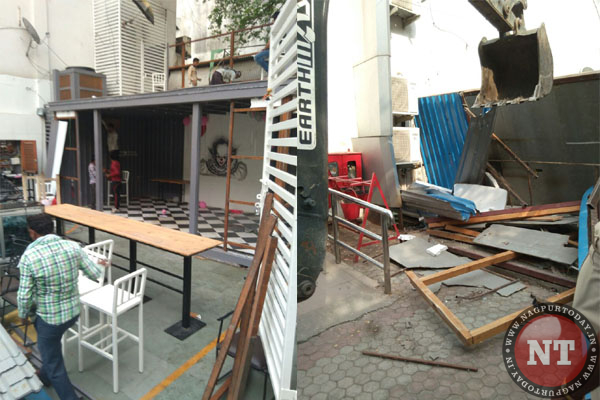 Nagpur: In a major action, a squad of Dharampeth Zone of Nagpur Municipal Corporation on Friday bulldozed an illegal hotel constructed at the parking slot of Wockhardt Hospital near Shankar Nagar Square on North Ambazari Road. Acting on the directives of Nagpur Bench of Bombay High Court on PIL No. 65/2012, the Enforcement Department squad of Dharampeth Zone demolished the hotel built at the parking place of the multi-storied hospital.
Similarly, the Mangalwari Zone of NMC demolished the illegal construction at the parking place of Chhaoni-based Achraj Tower A-B Wing. A fine was also recovered from the encroacher.
Interestingly, the illegally constructed hotel – Bauffage – at Wockhardt Hospital parking was demolished on Wednesday. But the hotel was restarted soon after the squad of Dharampeth Zone left. The multi-storey hospital violated the sanctioned plan and carried out illegal construction in its basement meant for parking. As a result, visitors were forced to park vehicles on the road, thus causing frequent traffic snarls.
Armed with an excavator and a truck, the anti-encroachment squad of the Dharampeth Zone led by Assistant Municipal Commissioner Mahesh Moroney reached the spot on Wednesday. Spotting the squad, the hotel owner assured to vacate the place and sought 24 hours' time. But soon after the squad left, the hotel started operating like any other normal day.