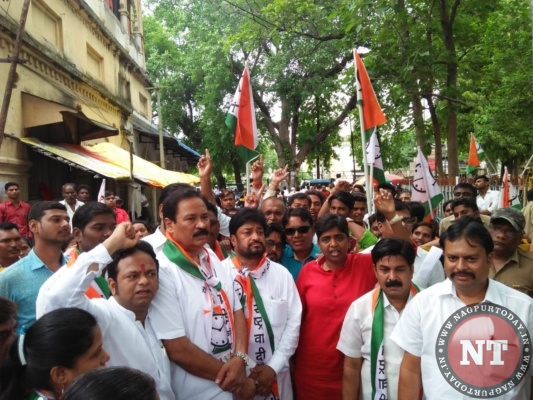 Nagpur: A vociferous protest by hundreds of NCP activists led by MLC Prakash Gajbhiye forced Nagpur Municipal Corporation (NMC) to approve the long pending proposal to sanction the land for construction of Dr Babasaheb Ambedkar Birth Centenary Memorial at Yeshwant Stadium.
On Monday, Gajbhiye and the other party activists stormed the Townhall in Mahal where the General Body Meeting of NMC was going on. NMC had earlier proposed 2,780 square feet land for the memorial. However, the land proposed was not enough to build a memorial and thus, the matter was kept pending for the last 25 years. The proposal was kept before NMC in 1993, said Prakash Gajbhiye at a press conference.
After the protest on Monday, Gajbhiye handed over a memorandum to Mayor Nanda Jichkar, Deputy Mayor Deepraj Hardikar, Standing Committee Chairman, Ruling Party Leader, Opposition Leader and other Corporators. The memorandum had signatures of NCP Corporator Duneshwar Pethe, Oppostion Leader Tanaji Vanve, Narendra Borkar, BSP leader Jamal Bhai, Sandeep Sahare and others.
Gajbhiye said that he had been following the proposal from last 25 years. He had raised the issue in Legislative Council in April 2016 following which former Minister Eknath Khadse had immediately called a meeting with the then NMC Commissioner and other officials. "Khadse had passed the orders to sanction the proposal but later, there was no further development in the matter," said Gajbhiye. Now, after the proposal has been approved by NMC, the party members demanded that NMC should immediately shift the Bus depot to Morbhavan and prepare the layout of the memorial.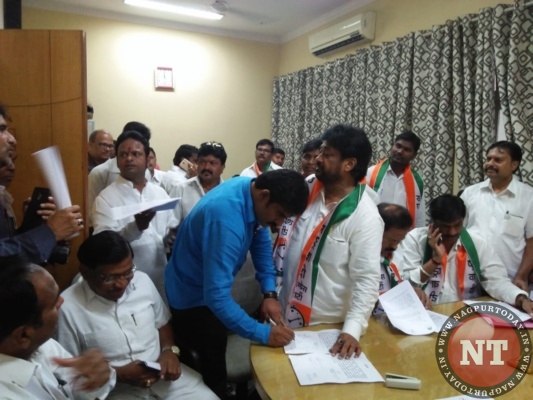 Those present on the occasion include Anil Ahirkar, NCP City President, Raju Nagulwar, Rajabhau Akre, Kisan Selche, Raju Raut,Santosh Narwade, District President, Social Justice Department, Mahendra Bhange, City President, Shailendra Tiwari, Youth President, Rudra Dhakade, Students's President, Pramod Thool, Vijay Gajbhiye, Varsha Shamkule, Region Vice President, Urvashi Giradkar, Pramila Tembhekar, Amol Wasnik, Prashik Ghutke, Deep Panchbhave, Rajesh Adhav, Pranay Jambhulkar, Sawan Moon, Subhash Mane, Harish Dhobale, Dilip Wankhede, Vikas Uikey, Suresh Nandurkar, Raju Khan,Ravi Khan,Rahul Bhotmange, Jagdish Kedar, Satish Jangle, Salam Sheikh, Mitta Dolare and hundreds of activists.