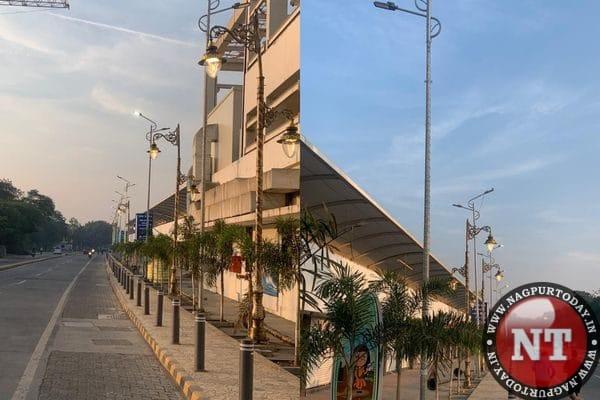 Nagpur: The beautiful Futala lake which has been redeveloped by the Nagpur Improvement Trust (NIT) has caught citizens attention. Yes, undoubtedly for the mesmerising fountain but also for the carelessness of the NIT.
The streetlights installed at the site which makes the fountain more alluring, were kept switched on even after sunrise. The images below show that the streetlights were not switched off till at least 8 am on Tuesday.
The project, which is a brainchild of union minister Nitin Gadkari, faced a lot of backlash for wasting electricity by keeping the lights on. On one hand the NIT has been accused of wasting electricity, on the other hand steel industries have closed down due to high cost of electricity and no relief or subsidy from the state government.
The state-run electricity body– the Maharashtra State Electricity Distribution Company Ltd (MSEDCL) has been keeping a close watch on the misuse of the electricity by various players, yet, no action has been taken yet for the carelessness.
Will the state-run electricity body take any action against the wastage of electricity by Gadkari and NIT's project or if the rules are meant only for the general public remains to be seen.