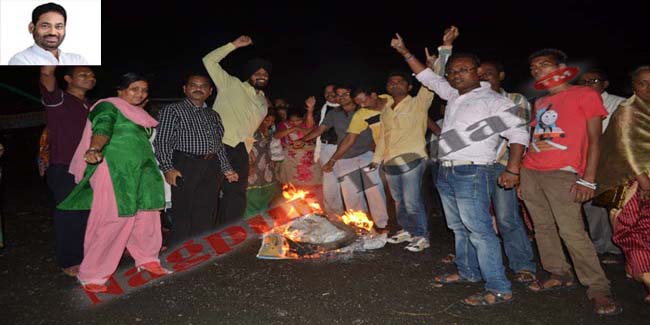 Nagpur News: Maharashtra Minister for Employment Guarantee Scheme Nitin Raut has on Sunday offered to resign from his post before Chief Minister Prithviraj Chavan as a mark of his resentment over consistently delaying lease to the controversial Bezonbagh Housing Society in Nagpur. Meanwhile in Nagpur, hordes of Raut's supporters protested as the news about his proposal poured in. Highly placed sources confirmed the development saying that no word came from the Chief Minister over Raut's proposal to resign.
Sources informed that Bezonbagh Housing Society has caught the eye of the storm as the state government did not regularize the society comprising about 400 houses, one of which is also owned by Raut. The society is being termed as encroachment without state government's nod, thus inviting legal action.
His supporters are seeing this move as his loyalty towards his people. However, political experts claim the development as Raut's pressure building exercise in order to place his demand on priority board.
The state government was said to have assured Raut of providing full term lease to the society, however, it did not come up to its assurance, leaving the dwellers in lurch for past many years. Raut has been consistently pressing for the demand.
Things turned worse when the High Court recently passed an order to demolish the colony. However the court left the decision to provide lease on the state government which could prevent it from being demolished. Instead state government chose to put the decision on hold, aggravating Raut's anguish.
Many of his supporters have planned to stage demonstration on Monday in support of Raut. One of the party men said, "Though it's shocking that Bhau (Raut) has quit his post but it is equally remarkable in his capacity. We salute him for what he did in order to protect the interest his people."
However, on the hind side, political observers believed that Raut's decision might amount to the extremity of his effort in order to push his demand further.