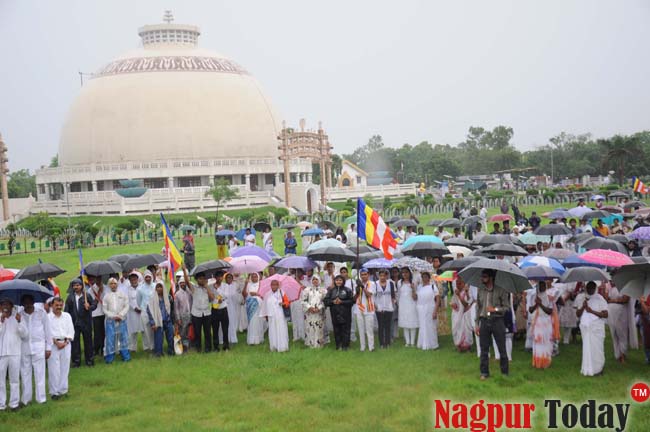 Nagpur News: Braving the continuous rainfall on Sunday, thousands of Buddhists and followers of Dr Babasaheb Ambedkar thronged Deekshabhoomi to press their demand for handing over management of the Mahabodhi Temple at Bodh Gaya.
Bhikku Sangh had organised a protest-cum-peace march on Sunday against recent incident of serial bomb blasts at Mahabodhi Temple in Bodh Gaya.
Withstanding continuous rainfall on Sunday, thousands of followers of Lord Buddha and Dr Ambedkar participated in the march. Guiding the march, Bhikku Sangh sought security cover to all Buddhist pilgrimages in the country. Demand to hand over management of Mahabodhi Temple was emphasised during the march. Appeal was also made to people to unite for 'freedom' of the Mahabodhi Mahavihar.
Bhante Sadanand Mahathero, Bhante Vimalkirti Gunseeri, Bhante Priyadarshi Mahasthavir, Bhante Mahapanth, Bhante Dhammapal, Bhante Dr Dhammodaya, Bhante Dnyanbodhi, Bhante Nagdipankar, Bhante Gunwardhan, Bhante Buddhaghosh, Bhante Jeevanjyoti, Bhikshuni Sheelachara, Dhammarakshita and hundreds of other Bhikkus, prominent persons, activists of political parties, social, educational and religious outfits participated in the rally.