Nagpur: "If you have a parent who has been advised the costly and painful knee replacement surgery, or any surgery for the spine; if you are suffering from what seems like incurable spondilitis , please give Ayurveda a chance to cure you. " Says Dr. Khonde a trained and accomplished Ayurveda 'Vaidya' (Doctor) who now has his own 'Kerala Ayurvedic Panchkarma' called 'Parijatak'.
When you walk into his modern, plush 'hospital' and clinic in Shankar Nagar, a pleasant but powerful aroma hits you transporting you to a Kerala spa ( if you have ever experienced one).
"It is the oils we use for massage and various steps of panchkarma" explains Nitesh.
Framed by Dr. Khonde's table are photos of Nagpur's celebrity chef Vishnu Manohar when he cooked non stop for 52 hours recently to create a world record.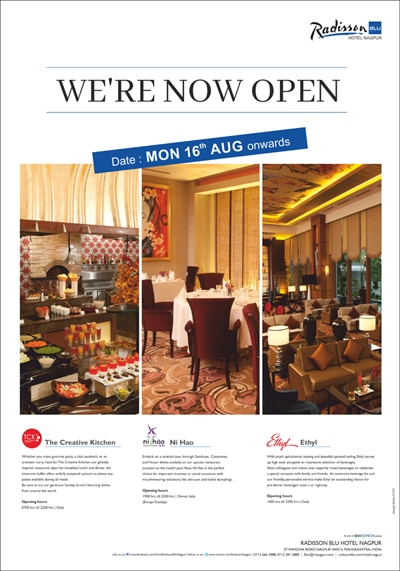 Nitesh Khonde was part of the support team that ensured that Vishnu was hydrated properly and actively on his feet for such a long stretch.
Though Khonde looks, and is, very young he has had many celebrity patients whom he has treated and saved from surgery.
"Since I began practicing, I have treated over 700 patients successfully and saved many of them expensive, even risky surgeries" says Dr. Khonde.
Journey to becoming an Ayurveda Doctor
Though today he is a very successful medical practitioner, it was not young Nitesh' aim when he was growing up. He was the son of an average, rural Vidarbha farmer in a village near Saoner, 50 Kms fom Nagpur, and though very bright in studies knew well enough that seeing impossible dreams was not for him… not with farmers being in the state that they were and are.
He says if fate hadn't intervened he would have gone to some Govt. Engineering college applying for a 'free seat' and then may be gone abroad as a software engineer, following the herd.
But fate did intervene: his mother got a snake bite while working on the farm and had to be rushed to Nagpur GMC for treatment. Nitesh was in his 12th then and accompanied his mother to Nagpur staying with her all the time she was undergoing treatment.

"It was a sad revelation for me, to see how the poor are treated in big government hospitals and the pathetic 'services' they are offered. I decided then that I wanted to be a Doctor myself."
When his mother was somewhat recovered they shifted her out and later she was 'home treated' the Ayurvedic way by a local practitioner. She seemed to benefit a great deal from this and recovered completely.
Meanwhile Nitesh had appeared and cleared PMT. He was offered a seat in the Lata Mangeshkar College and hospital in Nagpur, but had to pay Rs. 1.25 lakhs immediately. Given their financial condition that was impossible, so Nitesh decided to apply for the BAMS (Bachelor of Ayurveda, medicine and surgery) course instead. Again, he got admission in the reputed SGAC through the centralized admission process ( Ayurvedic Mahavidyalaya Gurukunj Ashram Mozri,) but again was asked to pay Rs.13,000/ within 7 days!
"My father was hopeful that he would get sufficient loan against his cotton harvest of that year and both of us went to meet the nearest local 'Cotton trader'. He used to be available only after midnight so we used to start on the trek at 10.30 p.m. to reach the town where he was located. He kept procrastinating, asking us to 'come later' and we made the midnight to and fro walk 4 times. The 4th time he told us, it was not possible, he could not lend us any money!"
It was a very disheartening moment for Nitesh.
"I had myself done every farming activity on the field with my father, everything that a farm labour does; yet I had topped every school exam, and still we did not have even Rs.13,000 for my education? Such are the straits of the farmers, which most city people still don't understand!"
Finally, with help and hand loans from relatives, friends etc. Nitesh made it to the institute where he again topped! He had a ranking in the MUHS exams ( for admissions to M.D) but again could not join due to dearth of finance. The old story again!
" I put my heart and soul and every waking minute into working then…simultaneously with my internship I took on 2 jobs ( main one being with Talwalkar Pantaloons Fitness +Panchkarma Center) sleeping only for 2-3 hours and working the rest. I did not even have a room of my own, crashing in at some friend's hostel room clandestinely for 3 months."
But the stint with Talwalkar's finally gave him the break he needed. They sponsored his training in Kerala Panchkarma and he later entered into a partnership with Nagarjuna to start a Center in Nagpur.
He branched off on his own with Prajakta in 2014.

Today Dr. Nitesh Khonde is more of a believer in Ayurveda than ever before having a successful track record of curing many patients of seemingly impossible conditions like paralysis, multiple sclerosis, diabetes, migraine, Kidney problems, frozen shoulder, slipped disc and many other troublesome ailments.
"Where is the research in Ayurveda?" Many skeptics ask. "I tell them it is Swayam Sidha, our Rishis and Munis have researched for thousands of years and come up with treatise on Ayurveda, it does not require any further proof."
"And what is more, while Allopathy treats symptoms, Ayurveda goes in to the root cause of the problem and solves that. That too in a natural way. No Ayurveda medicine will ever give you any harmful side effects" avers Nitesh Khonde.
Visit for more details.
(In conversation with Sunita Mudaliar.)