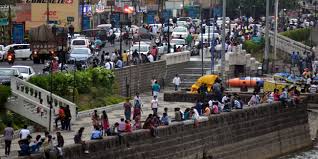 Nagpur News.
At last Nagpur Improvement Trust has woken up to the long pending recovery of taxes under various heads for the food kiosks being run at Futala Lake. NIT has sent separate demand notes to the contractor Sell Ads which has been rented out the entire space. The demand notes sent to the said contractor bore the amount of Rs 2,67,661 and Rs 5,54,694.
Recently, Sanjay Agrawal of People Against Corruption has raised the issue of putting up extra food kiosks in violation of the agreed number of kiosks by the contractor. However, the struggle seems to have borne fruits as NIT has finally decided to recover service tax and various taxes application from Sell Ads.
Agrawal told Nagpur Today that the service tax was long due on Sell Ads, owned by Shailendra Mehta and his other associates. "We had brought the matter to the knowledge of commissioner who prompted the action. This is only a single step and we will have to push for second round of tax recovery which would be the service tax incurred on the rent that Sell Ads is recovering from the vendors of food kiosks."
About the issue of Sell Ads bringing up more number of kiosks than what was agreed upon, Agrawal said it's a different matter and we have already filed public interest litigation in this regard.
NIT had rented out the place located by the Futala lake side to Sell Ads who further leased out to food vendors. As per the agreement, Sell Ads would pay NIT Rs 16.27 lakh in the first year (2011-12), 17.89 lakh in second year, and Rs 19.68 lakh and Rs 21.65 lakh, in the third and fourth year respectively, in the form of rent for the place. In addition to it the service tax and other taxes application would also be paid by Sell Ads. "But it neither paid NMC property tax nor did it pay service tax," Agrawal said.