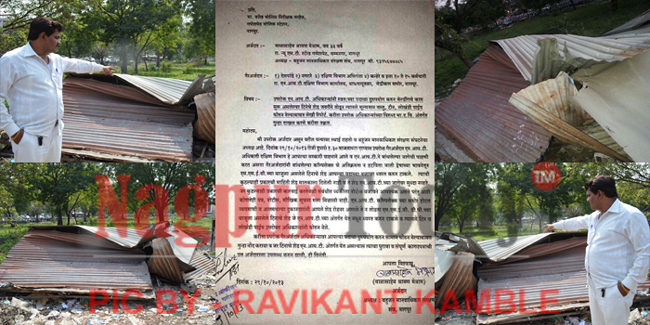 Nagpur News.
President of Bahujan Manavadhikar Sanrakshan Sangh Balasaheb Meshram has lodged a complaint with Ganeshpeth Police station against top NIT officials, who allegedly demolished his tin shed near MSEB office on Tuesday.
According to the complaint report, Balasaheb alleged that NIT official (South zone), on Tuesday, demolished his tin shed near MSEB DP which did not even fall under their jurisdiction. He alleged that the NIT officials took away the tin and other material from there after razing the shed. Balasaheb further said in his complaint report that NIT did not issue any notice or prior information about the action. He said that the area did not come under their jurisdiction. He also said that nearby hotels that illegally extended their sheds on the roads were not even touched by the officials.
"It is necessary for NIT officials to issue notice prior to removing the encroachment, but I received none in this case," he added. He cornered the NIT officials saying that his shed was not constructed illegally and that NIT officials had no proof of its illegality. He also demanded documents and proof from NIT if they considered his construction illegal.
Balasaheb has lodged this complaint against one Deshpande, Nagrare, NIT South zone officials, Kanhere and others.
… Ravikant Kamble