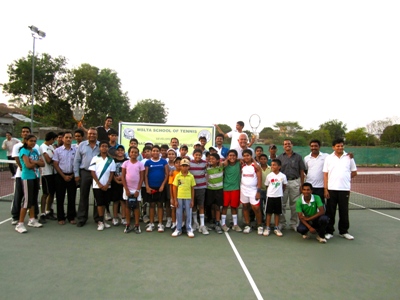 Nagpur Sports News: Nagpur District Hard Court Tennis Association ( NDHTA ) is organising a Tennis Coaching Camp for all tennis players at the NIT-MSLTA Tennis Centre at Ramnagar (Bajiprabhunagar) , Nagpur. The camp will be from December 01, 2012 to December 03, 2012 from 9am to 4pm, on all days.
Maharashtra State Lawn Tennis Association ( MSLTA ), is the apex body for Tennis in the state of Maharashtra. MSLTA is sending its team of experts which includes Mr Manoj Vaidya (Chief Coach MSLTA), Dr V Paes, Mr Hemant Bendre (ITF Coach) and Mr Gilani Shaik (Fitness Coach MSLTA), who will be arriving in the city on December 01, 2012. 
Kindly register your name with coach Mr Kapil Chutele (mobile 9422810732), on or before Thursday, November 29, 2012. The Fees for the camp are Rs Five Hundred only per player. All Tennis "Coaches" and "Markers" of Nagpur city who are offering their services at schools and other tennis centres are invited to register themselves "free of charge".
All tennis players of Nagpur region are invited to attend the coaching camp and avail the benefit of experts present.