If you are bored of eating the same chicken curries over and over again, here is an exotic dish from the state of Tamil Nadu which will provide you with a refreshing new taste. The name of the recipe hails from the famous blue mountains of South India- the Nilgiris. This is a simplified version of the recipe but the delicious combination of the flavours will definitely tingle your taste-buds.
The key to this chicken recipe is coconut, mint and coriander which lends it a greenish-brown shade and infuses it with a mild herby flavour. And the aroma is simply intoxicating. The perfect mix of the Indian spices make this dish extremely delicious.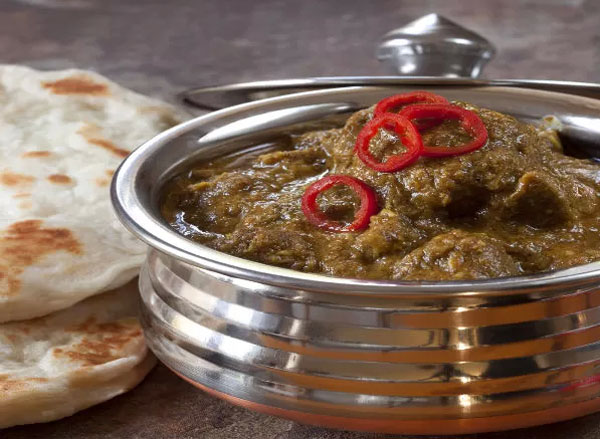 So here is the recipe for Nilgiri chicken korma.
Serves: 4-5
Preparation time: 15 minutes Cooking time: 40 minutes
Ingredients
Chicken- 1 kg
Onions- 2 (finely chopped)
Ginger-garlic paste- 1.
5 tbsp Tomato- 1 (finely chopped)
Red chilli powder- 1tsp
Turmeric powder- 1tsp
Lemon juice- 2tbsp
Curry leaves- 6-8
Salt-as per taste
Oil- 2tbsp For masala paste
Jeera (cumin seeds)- 1tsp
Saunf (fennel seeds)- 1tsp
Khus khus (poppy seeds)- 1tsp
Cinnamon- 1 inch piece
Cardamoms- 2
Fresh coconut- 5tbsp (grated)
Cashew nuts- 8
Green chillies- 4
Coriander leaves- 3tbsp (chopped)
Mint leaves- 15
Water- 3 n ½ cups
Procedure
Heat a pan and dry roast jeera, saunf, khus khus, cardamoms and cinnamon on it.
Remove from heat and grind these along with cashews, coconut, mint leaves, coriander leaves, green chillies and half a cup of water. Make a smooth paste. Keep it aside.
Heat oil in a pan and add curry leaves. Saute for 2 minutes.
 Now add chopped onions and fry till they become translucent.
Add ginger-garlic paste to it and fry for 3 minutes.
Now add chopped tomatoes, red chilli powder, turmeric powder and salt. Cook for 4-5 minutes.
Add the masala paste you prepared earlier and cook for 7-8 minutes.
Now add lemon juice and chicken pieces. Saute for 2 minutes.
Add 3 cups of water to the pan, cover it with a lid and cook for 20-30 minutes till the chicken is perfectly cooked.
Once done, switch off the flame and garnish the Nilgiri chicken korma with chopped coriander leaves.
Your Nilgiri chicken korma is ready to be served. Enjoy it with chappatis, pulao or biryani.