Nagpur News : NFC pipped DSACRLY by 2-0 in ongoing Meghe Group sponsored Super Division Football Tournament organised by Nagpur District Football Association (NDFA) at SECR"s Motibagh ground on November 1, 2013.
In the first half, NFC succeeded to earn the lone goal scoring 1-0. Finally after a change of ends, Emanuel Okayo scored much awaited goal for NFC in the 55th minute and Naved Akhtar 66th min. At the same moment, Ibrahim Khan was penalised by match referee for his unsporting behaviour. In the remaining time, DSACRLY tried their best to restore the parity but in futile.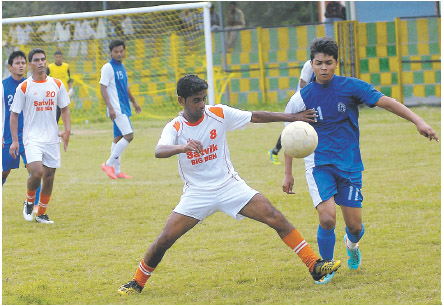 In the senior division league, in an interesting encounter Shakti Sporting pipped Orange City by 5-0.
Shakti Sporting took the lead in the 10th minute when Rajesh found the net then Chetan Pratik earned two goals in the 20th minute and 45th minute followed by Mangesh Taide in the 65th min and Sailo in the 74th min.
Results:
Super Division Football
Motibagh ground
Match: NFC beat DSACRLY 2-0
Scorers for NFC were Emanuel Okayo on 55th min, Naved Akhtar on 66th min
Yellow card : NFC (Ibrahim Khan 73rd min, Nazim Arshad 78th min, Muntazim Afzal 80th min, Emanuel Ockayo 84th min, Mohsin Khan 86th min, Afzal Ahmad 87th min)
DSACRLY (Aziz Qureshi 56th min)
Meghe Senior Division
Police ground
Match: Shakti Sporting beat Orange City 5-0
Scorers for Shakti Sporting were Rajesh Wankhede on 10th min, Chetan Pratik on 20th & 45th min, Mangesh Taide on 65th min and Sailo 74th min
No cards.
Schedule for tomorrow:
Meghe Super Division
(Super Six match)
Match : Iqbal Club v/s Range Police  2.30pm on Motibagh ground.
Meghe Senior Division
Match: Shakti Sporting v/s Rahul Brothers at 1.00pm on police ground.