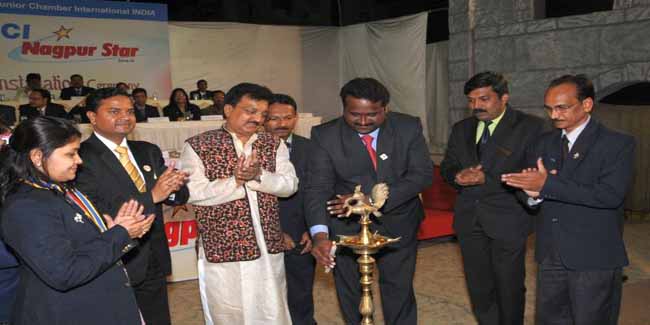 Nagpur News : Jc. Uma Bhattad Presient 2012 installed Jc. Roshan Bagde as President of year 2013 of JCI NAGPUR STAR at Installation Ceremony at Bollywood Centre Point, Sakkardara Lake.
JCI Sen. Mahesh Rathi was the Chief guest on the occasion while Executive Vice President of JCI India Jc. Shijo Zacharia was the Installing Officer, Zone President Jc. Amar Agrawal was the guest of honor, Manish Kurjekar as Zone Vice President, Jc. Ajay Singh as Founder President.
Neha Singh was installed as Vice President (Individual Opportunity) while Sudeep Jaiswal as (Vice President Sports), Vijay Patait as Vice President (Management Opportunity), Vaishali Bagade as Vice President (Business Opportunity), Charushila Satpute as Vice President (Community Opportunity), John Thomas as Vice President (Public Relation), Prakash Naidu as Vice President (Growth & Development), Pramod Upadhyay as Vice President (International Opportunity).
Kiran Anasane was installed as Secretary, Mustaffa Abbasi as Joint Secretary, Pooja Palod as Treasurer, Nirmal Benjamin as Editor.
Navin Santiago was installed as Director (Individual Opportunity), K. Lakshmi as Director (International Opportunity), Hitendra Moon as Director (Management Opportunity), Laxman Kumbhare as Director (Business opportunity), Vinod Lokhande as Director (Community Opportunity).
Shweta Kare took charge of Jayceerate Chairperson while Sudhanshu Malewar as Junior Jaycee Chairperson. In all, 62 new members were given oath and joined in JCI Nagpur Star.
Jc. Uma Bhattad was installed as the Immediate Past President and Jc. Ajay Singh as Past President.
Mahesh Rathi said that JCI Nagpur Star has a magic and a person's ordinary personality transforms into an extraordinary one due to its charm. JCI Provides a right environment for a person to grow in his life and also make valuable contributions to the society. We should have a positive thinking as it has a great power. He added JCI NAGPUR STAR's best achievement in the year 2012 was JCI Nagpur Star's nomination International Cricketer Umesh Yadav of Nagpur city awarded as Outstanding Young Person of JCI India at National Conference held at Kerala.
Executive President of JCI India, Shijo Zacharia also appreciated JCI Nagpur Star's performance of the year 2012 & congratulated President Jc. Uma Bhattad and IPP Ajay Singh for their work. Zacharia said that JCI Nagpur Star should conduct programmes in style to create an impact on the society. JCI had been concentrating on training all these years and its training programmes are available in all languages.
Master of Ceremony were Neha Singh and Latifa Dhun. Kiran Anasane proposed a vote of thanks.