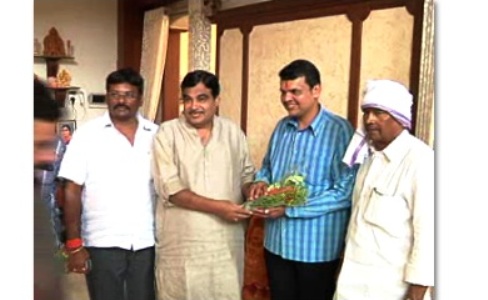 Nagpur News.
Instilled with loads of confidence and zeal after being appointed State unit BJP President, South West Nagpur MLA Devendra Fadnavis exuded his plan to form fresh poll equations to organise opposition votes to work out in favour of party. He however dodged the question regarding poll tie-up with Raj Thackeray led Maharashtra Navnirman Sena saying that it should be the party's parliamentary board's call to decide upon the matter.
Earlier, BJP National President Rajnath Singh announced his appointment to the party's state chief, sending out clear indications that the next assembly elections in Maharashtra would be contested under his leadership.
Talking to mediapersons at his residence in Nagpur, he said that  a wave of angst prevailed against the state as well as the central government. He firmed his plan to translate this ire of people to get the BJP led coalition government voted to power in Maharashtra. He opined that the scattered votes in the opposition had been the prime reason behind Congress-NCP still in power. He would try to attract these polarized votes to set the order right.

Fadnavis however denied any polarization within party, saying his appointment clears all the air about division in the party.
Fadnavis turned down any link of his appointment to his escalating status in the party, saying that it has only increased his responsibility to strengthen the party through proper planning. He said attending common man's problem would be his priority and the party would soon present his agenda before the people.
Voice for Vidarbha
When asked about statehood to Vidarbha – the issue bothering state politics since years – Fadnavis said his party is in favor of forming smaller states but till Vidarbha gets status as separate state, it would be developed as an integral part of Maharashtra.
Gadkari extends Greetings
Soon after his name was announced  as state BJP president, Devendra Fadnavis  reached the residence of former BJP national president Nitin Gadkari at Mahal in Nagpur and sought his blessings. Gadkari's wife Kanchan felicitated Fadnavis by offering him traditional aarti. Extending his wishes, Gadkari said that Fadnavis is efficient MLA and effective speaker. His leadership would certainly lend party's expansion in Maharashtra, he added.