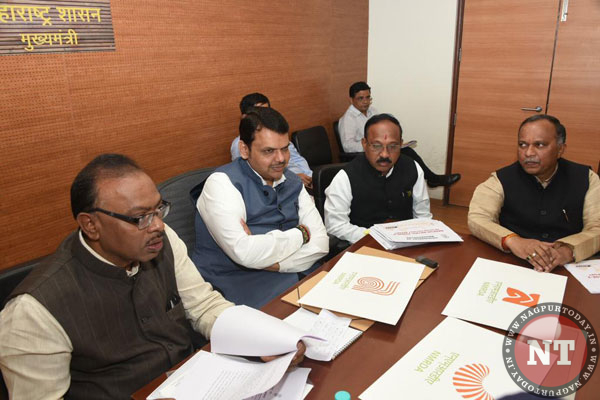 Nagpur: In a major decision that could be termed as New Year gift, Chief Minister Devendra Fadnavis on Tuesday approved the Phase-2 of Nagpur Metro Rail project. The presentation for Nagpur Metro Phase II was done before the Chief Minister in Mantralaya by the Maha Metro. Guardian Minister of Nagpur Chandrashekhar Bawankule, Ramtek MP Krupal Tumane, MLA Sudhir Parwe and others were present on the occasion.
The construction work of first phase of the Nagpur Metro is in full swing at present. The first phase has 38 stations in two stretches – MIHAN to Automotive Square, and Lokmanya Nagar to Prajapati Nagar. These two routes have interchange station at Sitabuldi. The Phase-2 will cover 48.3 km stretch divided into five segments — Lokmanya Nagar to Hingna, Wasudeo Nagar to Wadi, Automotive Square to Kanhan River, Prajapati Nagar to Transport Nagar, and MIHAN to Maharashtra Industrial Development Corporation (MIDC) elevated service reservoir (ESR). In the Phase-2, interchange station will be at Wasudeo Nagar. In all, there will be 35 stations in Phase-2. The estimated expenditure on Phase-2 works will be Rs 11,216 crore.
Salient features of second phase of Nagpur Metro
· The second phase of Nagpur Metro is 48.3 km long
· This includes 35 stations
· Metro 1 A- Mihan to Industrial Development Corporation ESR (18.7 km) Metro 2 A -Automative square to Kanhan river (13 km)
·Metro 3 A- Lokmanya Nagar to Hingna ( 6.6 km)
· Metro 4A- Pardi to Transport Nagar (5.5 km)
· Metro 5- Vasudev Nagar to Wadi (4.5 km)
· Due to the Phase 2, the transport capacity of more than 2.9 lakh commuters will be developed in the year 2024 whereas due to Phase 1 and 2 the transport capacity per day will be 5.5 lakhs.
Nagpur Metropolitan Regional Development Authority meeting:
A meeting of Nagpur Metropolitan Regional Development Authority (NMRDA) was held under the chairmanship of Chief Minister Devendra Fadnavis at the Mantralaya. The Metropolitan Commissioner of NMRDA Sheetal Ugale made a presentation and gave information about the developmental works. The discussion for new logo of the authority was also held. The review and compliance report of last meeting was given approval in this meeting. Additional Chief Secretary of Finance Department UPS Madaan, Principal Secretary of Urban Development Department Dr Nitin Kareer, Commissioner of Nagpur Municipal Corporation Abhijit Bangar, Managing Director of MIDC P Anbalagan, Managing Director of Nagpur Metro Brijesh Dixit, and other officials were present on the occasion.